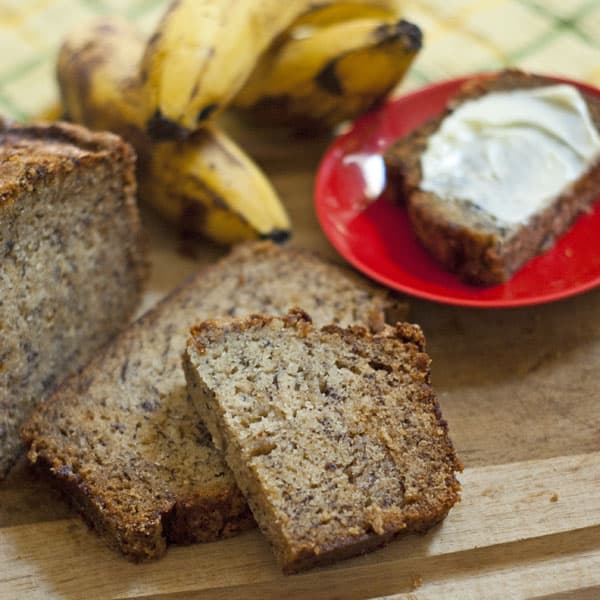 I always know it's time to make banana bread when my toes start getting attacked by frozen bananas. It usually begins with just one delinquent banana that's made its way off of the freezer door shelf but slowly escalates as more bananas go south and end up gracing the racks of my freezer. And then, it happens: A meeting is held that determines the day and time that every last one of them will make their grand escape, fall ever-so-ungracefully on my toes, make me utter a few choice words, and meet their fate in my mixing bowl.
I have two recipes for banana bread that I absolutely love. The first being my mom's which I've yet to gain permission to divulge and the second is this delicious little gem. There are 3 things about this recipe that make it special:
It has a high ratio of bananas and butter which makes for very moist bread with tender crumb.
It uses bread flour instead of all-purpose flour to keep the gummy-ness from so much moisture at bay and also gives it some structure.
Its deliciousness factor is raised 10x by coating the pans and tops with just a bit of sugar.
Are you sold yet? Let's take a look at the step-by-step.
I love quick breads because, well, they're quick. Combine the melted butter with the sugar and then stir in the bananas, eggs, and vanilla. Make sure your eggs and bananas are room temp or warmer so that the butter doesn't seize.
Most quick bread recipes say that you should mix the dry ingredients in a separate bowl, but I'm all about keeping as many dishes out of the sink as possible. So throw all caution to the wind and risk the possible clump of baking soda or salt by just sprinkling it over the top of the flour and then mixing in the dry ingredients. I'm so exciting, I know.
Banana bread is pretty hard to mess up, but if one step could be screwed up, this is it. DO NOT OVER-MIX! I always make quick breads by hand because they need to mixed very minimally. Mix too much and you'll end up with tough, dry bread that has what looks like little tunnels running through it. Sound familiar? Mix just until no dry spots remain. It will be lumpy, but that's okay.
Magic time. Spray your bread pans liberally with cooking spray, pour a little bit of sugar into the bottom and tap and swirl until all the sides are coated.
Fill your pans about 2/3 of the way full with batter and bake for 30-40 minutes depending on the size of your pan. Bread is done when a toothpick inserted into center of the bread comes out clean.
Do you have bananas attacking your toes or am I the only crazy person that keeps old bananas in the freezer?