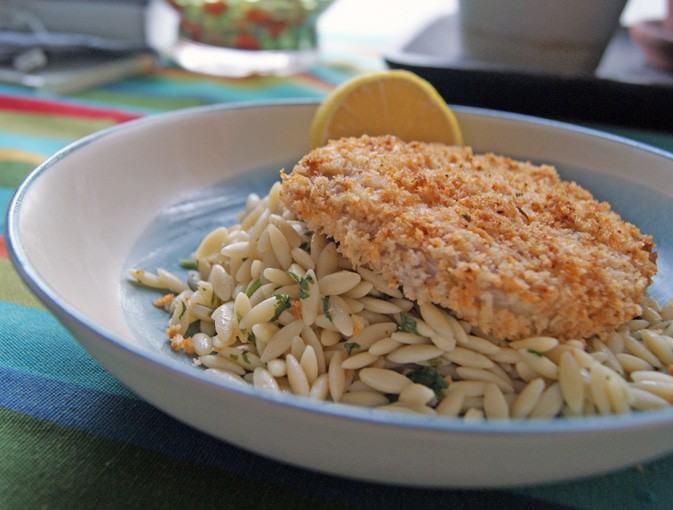 Remember Shake n' Bake? Well this recipe  is it's gourmet counterpart, but infinitely better. Like a WAY better, super-duper, actually delicious version.  I've never been a huge pork chop fan,  we'll have them for dinner maybe once a month, if that . BUT A few weeks ago I saw a package at the store and for some odd reason they looked really good.  So, fast forward a few hours later, with a very unhappy baby in my arms,  I went to find some inspiration on how to cook those seemingly delicious cuts of meat. And… wah-lah!  Here we have  Super Crispy Pork Chops — adapted from a recipe by America's Test Kitchen.  I'll make these again, and again– or at least the next time some chops catch my eye.
I'll also say that this coating would be mighty good on some chicken too!
Ingredients
1

cup Panko bread crumbs

1/2

tsp salt

1/2

tsp each: garlic powder, onion powder, smoked paprika, dried thyme

pinch of sugar

6

tbsp mayonnaise (light works just as well, you can even you plain yogurt)

4

boneless thickish cut pork chops ( 1/2-3/4 in thick)
Instructions
Pre-heat oven to 425 degrees.
Line a baking sheet with foil or parchment paper and place a wire rack on top.
Combine the bread crumbs and seasonings in a ziplock bag and add 2 tbsp of the mayonnaise or yogurt to the crumb mixture. Close bag and mush around until the mayo is incorporated. Dump into a pie plate or other high rimmed plate.
Coat each chop with about 1 tbsp mayo, or just until all surfaces are covered. Working with one chop at a time, use your fingers to thoroughly coat all sides with the crumb mixture. Place pork chops on your prepared wire rack.
Bake the pork chops until the coating is golden brown and they are cooked through ( between 140-145 degrees Fahrenheit). It took mine about 20 minutes. Let rest for 10 minutes or so before serving so all the juices can redistribute and get happy.

Made this recipe?
I'd love to see how you rocked it! Share your photo on Instagram with the hashtag
#heatherlikesfood  --
It will totally make my day to see it!