These super crispy pork chops are everything you could want out of a pork chop! The breading is light and flavorful but still super crispy thanks to the use of some panko bread crumbs and a secret ingredient. If you're craving the Shake N' Bake pork chops of your childhood, these will fit the bill and then some.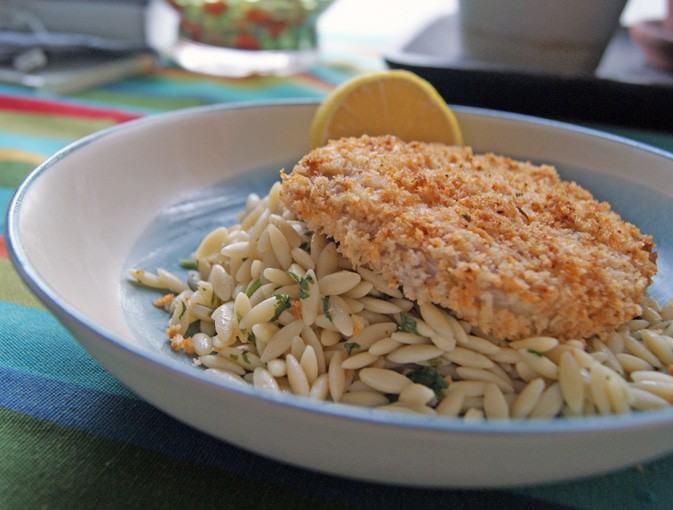 I've never been a huge pork chop fan. Honestly, pork chops don't really occur to me as a viable dinner option very often. But, when they do occur to me, I'm always pleasantly surprised! My mom used to make Shake n' Bake pork chops when I was a kid and this Crispy Pork Chop recipe tastes like a grown-up version of it. They come out of the oven super crispy (hence the name), juicy and really flavorful. The perfect main dish to serve with some delicious rice pilaf or "homemade" mac and cheese and some shaved Brussels sprouts.
How to make Crispy Pork Chops
The trick to making these the crispiest pork chops WITHOUT frying them is the use of two things: Panko bread crumbs and mayonnaise. The panko is able to hold its crunch and texture so well because we're using mayonnaise as the binding agent as opposed to eggs used in standard breading. The mayonnaise gives just enough moisture to allow the breadcrumbs to adhere to the pork chops and also adds the fat the breadcrumbs need to cook efficiently and stay crunchy.
Can I Make Crispy Pork Chops if I don't have Panko Bread Crumbs?
There are a few ingredients I might substitute panko bread crumbs for in this recipe if I really needed to. These being Kettle Cooked Potato Chips and Corn Flakes. When crushed, both of these would be a suitable alternative and still create a nice, crispy crust. I am, however, partial to the Panko bread crumbs. They create a similar experience to Shake n bake pork chops and really make this recipe shine!
What are Panko Bread Crumbs?
Panko is a type of flaky breadcrumb. It's typically made from white bread without any crust, processed into large "flakes" and then dried. Panko bread crumbs are very common in Asian cuisine but have become more and more popular with other cuisines as well. It has a very light and crispy texture that allows it to crisp while it cooks. It's great for frying foods because panko absorbs less oil than regular breadcrumbs allowing it to remain light and crispy. They can be found in most grocery stores near other varieties of breadcrumbs.
Tips for making the BEST Crispy Pork Chops
Don't skip the Mayonnaise. If mayo isn't your thing, maybe this recipe isn't either. Using it is essential to the recipe, adding flavor and needed fat to properly crisp the breadcrumbs.
Use a baking rack. If you don't have a dedicated baking rack, a cookie rack or even a broiler pan will work almost as well. Putting the pork chops on a rack allows the hot air to circulate evenly across all the surfaces of the meat so you're not left with a soggy bottom. Nobody likes a soggy bottom. 🙂
Allow your Porkchops to rest before serving. Just like any other steak or cut of meat, it's always wise to let your meat rest a few minutes (5-10 mins) after cooking before cutting into it. This allows the juices to redistribute in the meat and keeps it nice and juicy.
If you like this Crispy Pork Chop recipe, give these Parmesan Artichoke Pork Chops a try!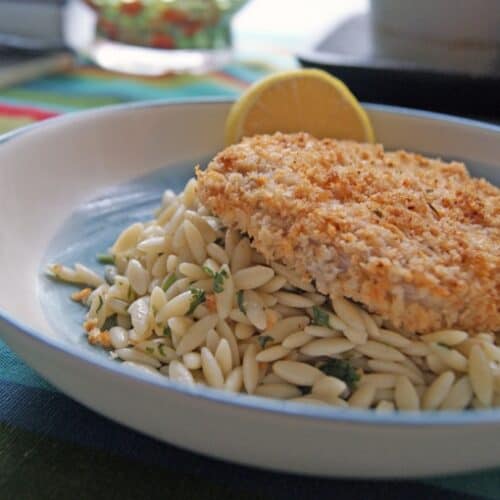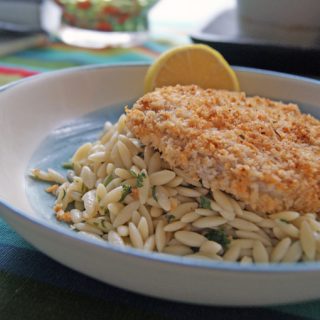 Super Crispy Pork Chops
These super crispy pork chops are everything you could want out of a pork chop! The breading is light and flavorful but still super crispy thanks to the use of some panko bread crumbs and a secret ingredient.
Print
Pin
Rate
Ingredients
1

cup

Panko bread crumbs

1/2

teaspoon

salt

1/2

teaspoon

garlic powder

1/2

teaspoon

onion powder

1/2

teaspoon

smoked paprika

1/2

teaspoon

dried thyme

1

pinch

sugar

6

tablespoons

full-fat mayonnaise

4

boneless thick cut pork chops

1/2-3/4" thick
Instructions
Pre-heat oven to 425 degrees Fahrenheit

Line a baking sheet with foil or parchment paper and place a wire baking rack on top.

Combine the bread crumbs and seasonings in a large ziplock bag and add 2 tbsp of the mayonnaise to the crumb mixture. Close bag and mix mixture with hands until the mayo is incorporated. Dump into a pie plate or other high rimmed plate.

Coat each pork chop with about 1 tablespoon of mayo, or just until all surfaces are covered. Working with one chop at a time, use your fingers to thoroughly coat all sides with the crumb mixture. Place coated pork chops on your prepared wire rack.

Bake the pork chops until the coating is golden brown and cooked through ( between 140-145 degrees Fahrenheit). It took mine about 20 minutes. Let rest for 5-10 minutes before serving to allow juices to redistribute and get happy.
Serving:
1
pork chop
|
Calories:
413
kcal
|
Carbohydrates:
11
g
|
Protein:
31
g
|
Fat:
25
g
|
Saturated Fat:
5
g
|
Cholesterol:
98
mg
|
Sodium:
598
mg
|
Potassium:
529
mg
|
Sugar:
1
g
|
Vitamin A:
135
IU
|
Calcium:
37
mg
|
Iron:
1.6
mg
Are We Friends On Pinterest?
Follow Me For More Great Recipes @hlikesfood
Tools I used for Making these Crispy Pork Chops