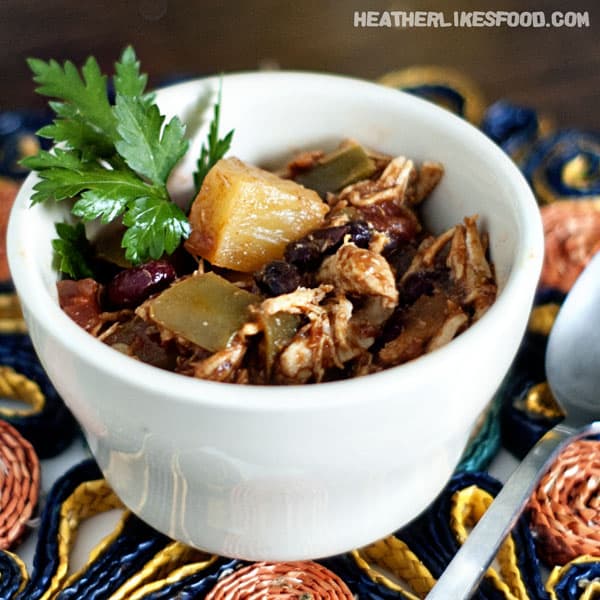 I mentioned last week that I noticed some major love for crock pot roasts when I asked what your favorite crock-pot meal was, but I didn't tell you about the other thing that I learned while reading your responses. Ranked just below roast beef, chili took a close second when it came to your favorites. I had so many people talking about chili that it got the wheels in this brain of mine twirling. I already have a basic chili recipe that I lurrrve, but once one reader started talking about how Hawaiian chicken chili was their favorite, I quickly looked up a recipe and…died.
Dead.
This death was not because I disapproved of their choice, but for the fact I had never heard of it before and I was mad at the chili gods for not introducing me sooner. Pineapple. In Chili.– Sweet. BBQ-saucy. Chili.
Dead.
I finally came to and decided to stop my sulking and just get in the kitchen. It was a good choice. I decided to mix and match a few recipes that I had found and made my own unique take on this odd idea for chili. The pineapple compliments the slightly spicy chili so nicely and I love the smoky undertones from the BBQ sauce mixed with the classic flavors from the chili powder and cumin. We topped ours with a dollop of sour cream and tortilla chips and it made for a unique dinner that we'll definitely be having again.
Start by browning 2-3 boneless/skinless chicken breasts in a little bit of olive oil and season with salt and pepper. I'm fairly certain the chicken these breasts came off of was related to Dolly Parton. I'll just leave it at that.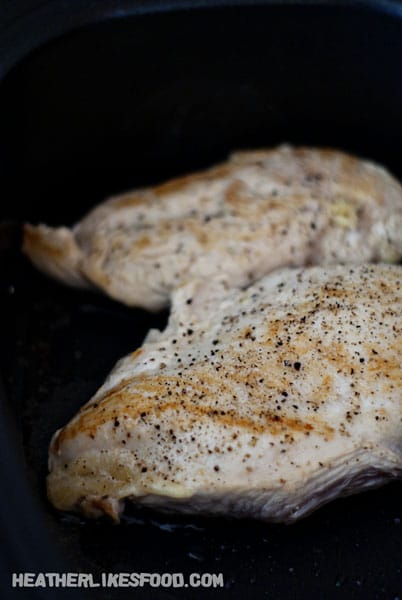 Place your chicken in the bottom of the crock pot and top with onion,  bell pepper, and a few cloves of garlic.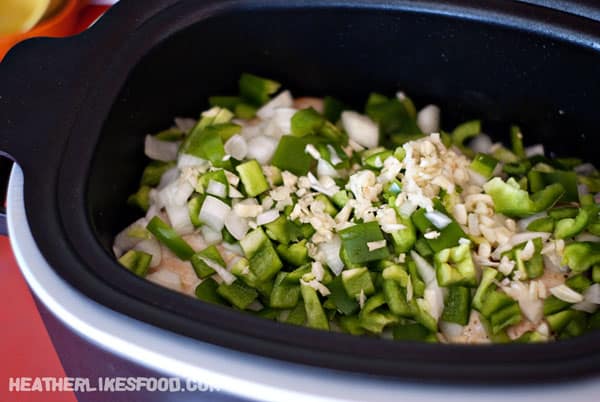 You'll then top it off with some beans (black and kidney), BBQ sauce, diced tomatoes, and pineapple juice. Oh, just typing the word pineapple juice makes me a little giddy inside.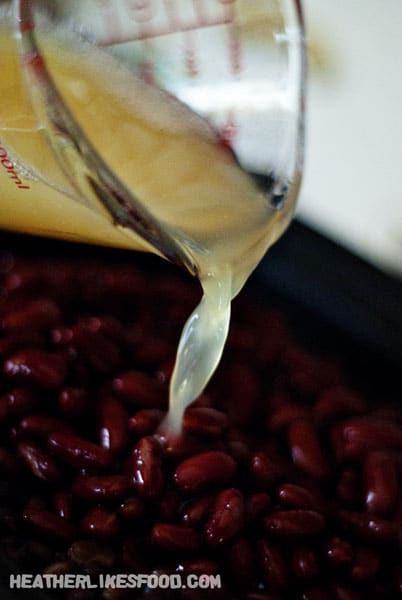 Season it up with some cumin, chili powder and ground ginger…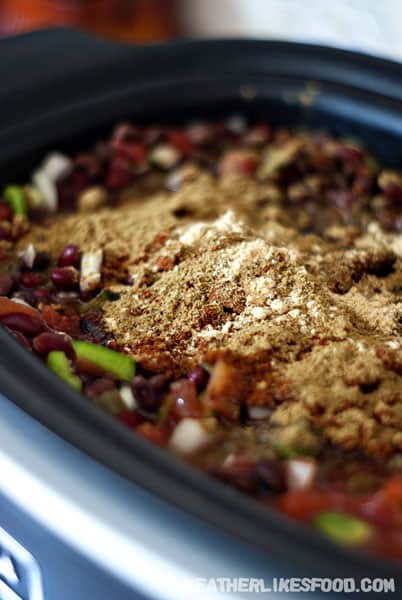 Give it a stir…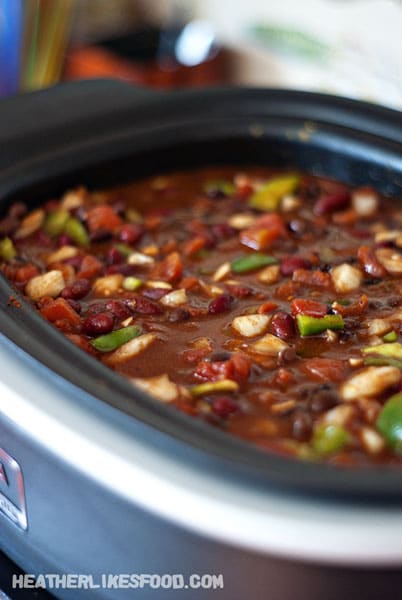 And let cook, cook, cook until the chicken is tender. Remove chicken, shred into bite-sized pieces and stir into the chili along with some canned pineapple chunks and EAT!
Try my other Crockpot Chili Recipes: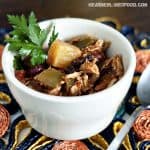 Crock-Pot Hawaiian Chicken Chili
Ingredients
2-3

lbs

boneless

skinless chicken breasts

1/2

tsp

kosher salt

1/4

tsp

black pepper

2

tbsp

olive oil

1

C

onion

diced

1

C

green pepper

diced

2

cloves

garlic

minced

1

20 oz can pineapple chunks, drained w/ juice reserved

1

10 oz can Ro-Tel Tomatoes, or diced tomatoes w/ green chiles

1

14.5 oz can diced tomatoes

1

14. oz can kidney beans, drained

1

14.5 oz can black beans, drained

1

C

prepared BBQ sauce

3

tbsp

chili powder

1

tbsp

cumin

1/2

tsp

ground ginger
Instructions
Season chicken breasts with salt and pepper and brown in olive oil just until they have some color but are not cooked through.

Place chicken in crock pot and top with onion, bell peper, tomatoes, beans, BBQ sauce, and 3/4 C of the reserved pineapple juice.

Stir chili powder, cumin, and ginger into the chili and set crock pot to cook on LOW for 6- 8 hours, or HIGH for 3-4.

Remove chicken from chili and shred into bite-sized pieces. Return to chili and stir in pineapple chunks. Season with salt and pepper to taste.