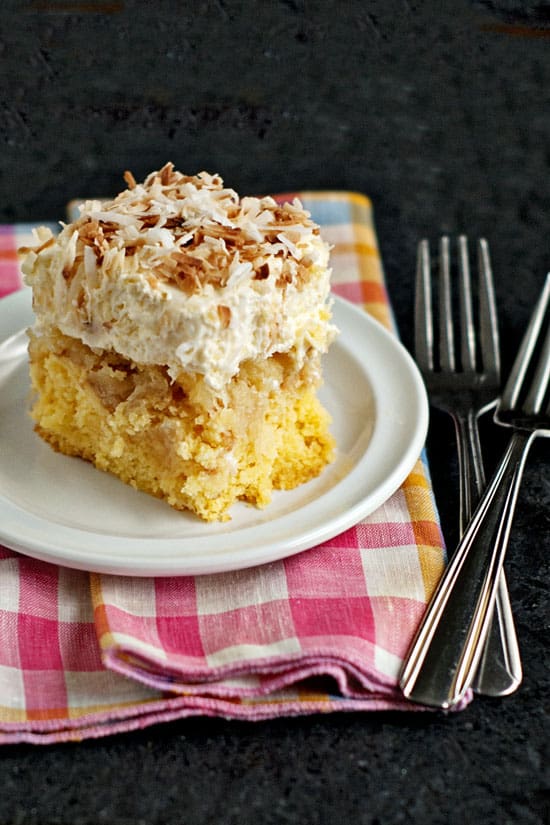 Many, many moons ago when I was going to cooking school, I spent my last term interning as a cake decorator at a local bakery. And when I say interning, I mean I got 2 days of training and then was set free to be THE cake decorator for the entire shop. No pressure, right?
The first few weeks were a little bit sketchy, but for the most part I was able to hold my own when orders came in. That is until we got an order for 26, 10" 6 layer dessert cakes that were all different flavors due the next day. Dessert cakes are super easy to decorate but the most time consuming part was making all of the mousses,  fillings and whipped creams they needed. I usually kept a good supply of baked cakes in the freezer to pull out and decorate as needed, but this time my stash was completely depleted and I needed to bake the cakes too.
Oy.
If you've ever decorated a cake, you know that you typically end up with a nice little pile of cake scraps from leveling it off. Having made so many cakes my  pile wasn't so little anymore and quickly grew in to a mountain of fierce temptation. I hadn't stopped for lunch, dinner had passed and my mountain was magically dissappearing. It turned out that little bits of  chocolate cake topped with dabs of fresh raspberry mousse tasted pretty darn good and I was stressed out.
So, I ate it.
I ate lots of it.
It really is incredible how much you can eat when you're just taking little bits at a time. Incredible and disgusting. Oh, and delicious.
So what does this have to do with Hawaiian wedding cake?
Here's the deal- Once you make this it's going be sitting in your fridge and every-so-often you are going to grab a fork and take a little bite straight out of the pan. All will be fine and well until you go to thrust that fork into some creamy cake and there's none left.
You ate it.
You ate it all. Basically the moral of the story is to not be like me. Can you handle that?
Now, onto the cake! I honestly don't know the real reason why this is called Hawaiian Wedding Cake. I'm just going to go out on a limb and say that it's because it's eaten at Hawaiian weddings but don't quote me on that. What I do know is that it's a great summer dessert because it's cold, creamy, and fruity.
You'll start by draining 2, 20 oz cans of crushed pinepple. Make sure to save the juice as we'll be using it in the cake batter.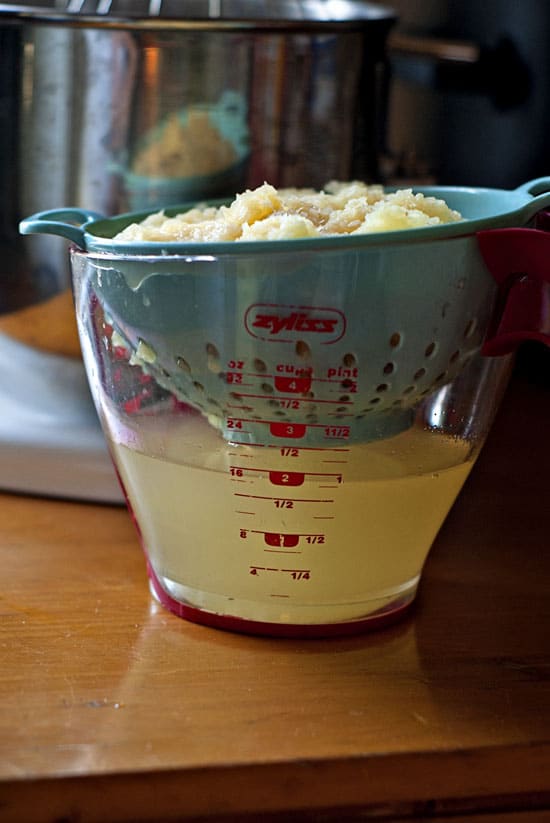 Prepare a yellow cake mix as directed on the box, substituting the water with the drained pineapple juice.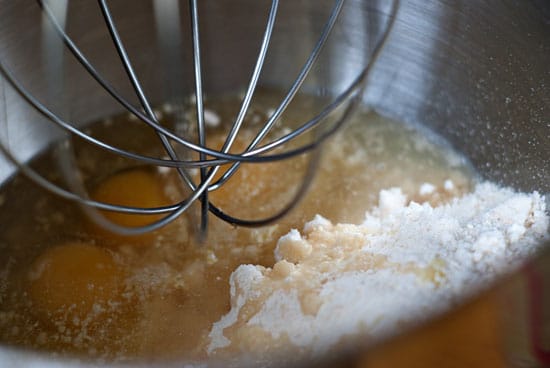 Bake in a 9×13" pan and let cool completely- Make sure it's not warm at all or it can become soggy. With a wooden skewer, poke holes all through the cake.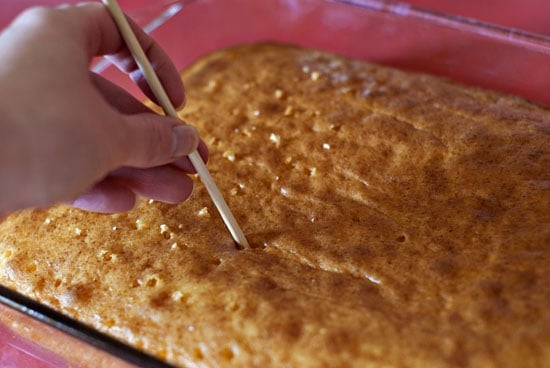 Spread the drained pineapple evenly over the top of the cake.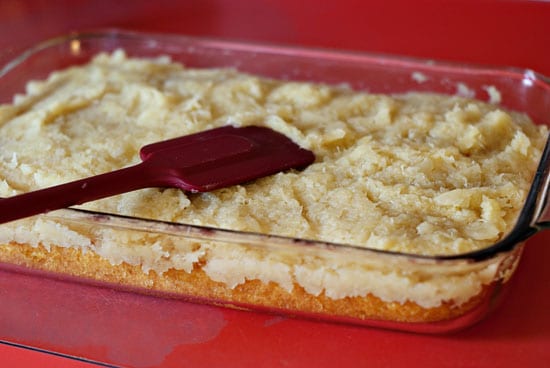 Using an electric mixer, beat 2 cups of whipping cream with some sugar until medium-stiff peaks form and transfer into a large bowl.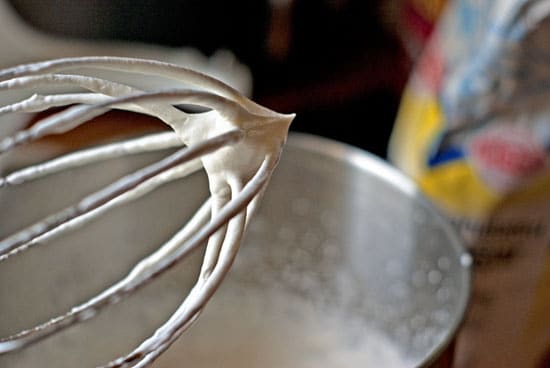 Use the mixer again to beat some very soft cream cheese and then slowly add milk to the bowl a little at a time. Beat until smooth before each addition and scrape the sides of the bowl frequently. Adding slowly and scraping the bowl will assure that you don't end up with a chunky cream cheese mess. Once all of the milk is incorporated, pour in one small packet of vanilla pudding mix and beat for 2 minutes. Gently fold the pudding mixture into the whipped cream and spread evenly over the top of the pineapple on the cake.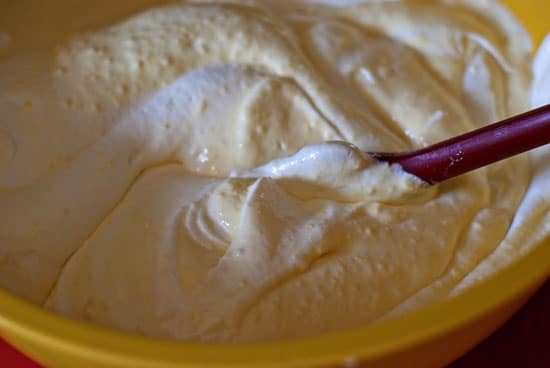 It will likely come all the way to the top and maybe even over the side of the pan but just pile it on there the best that you can. The thick layer of pudding is an awesome compliment to the cake and pineapple below.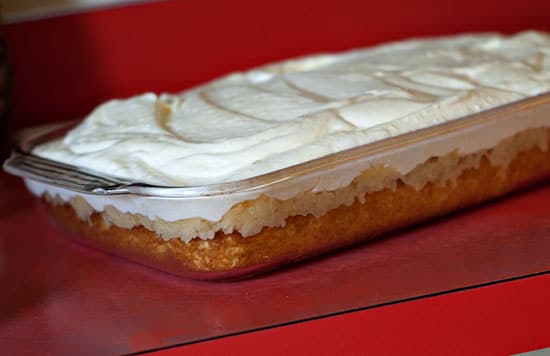 Sprinkle some toasted coconut over the top and you're all set to go!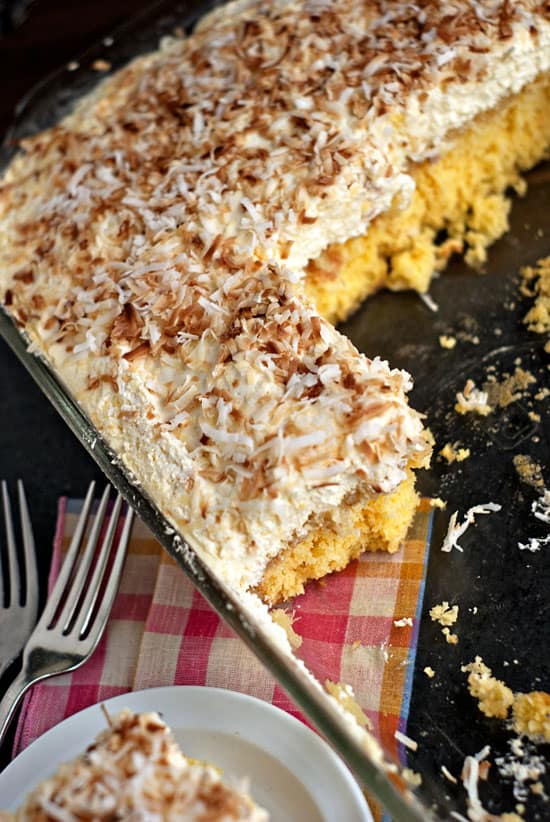 [pinit]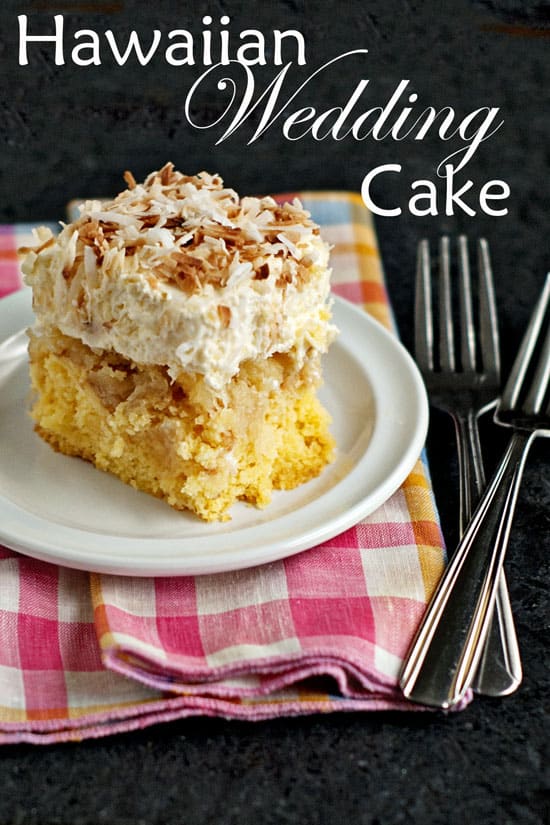 Ingredients
1

(18.25 ounce) package yellow cake mix

2

(20 ounce) cans crushed pineapple,

drained w/ juice reserved

1

(3.4 ounce) package instant vanilla

pudding mix

2

C cold milk (2% fat or higher)

1

(8 ounce) package cream cheese

2

C whipping cream

3

tbsp sugar

1/2-1

cup flaked coconut, toasted
Instructions
Drain pineapple, and reserve the juice. Set aside.
Prepare the cake according to the packaged directions, using pineapple juice instead of water. Bake in a 9x13" pan. Let cool completely.
Once cool, use a wooden skewer to poke holes all over the entire cake.
Spread the drained pineapple over the top of the cake and set aside.
In an electric mixer, beat whipping cream and sugar until medium-stiff peaks form and transfer into a large bowl.
In an electric mixer, beat softened cream cheese until smooth. Slowly add the milk a little at a time, beating until smooth between each addition. Scrape the sides of the bowl frequently.
When all the milk has been added, mix in the pudding mix and beat for 2 minutes. Gently fold the pudding mixture into the whipped cream, mixing until combined.
Spread mixture evenly over the top of the pineapple. Top the cake with toasted coconut, chill, and serve!

Made this recipe?
I'd love to see how you rocked it! Share your photo on Instagram with the hashtag
#heatherlikesfood  --
It will totally make my day to see it!