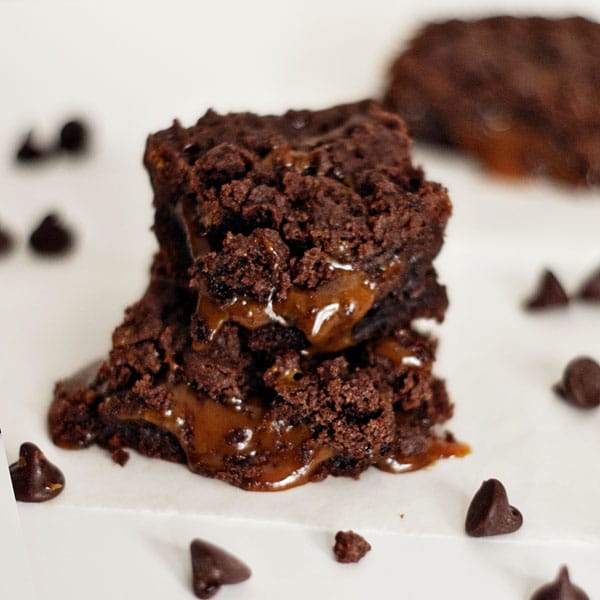 I don't know about you, but a big, rich, gooey brownie just hits the spot on some days. Like on days when it's pouring rain and dark and gloomy, or when the kids don't have school, or you have a cold, or Tuesdays. I hate Tuesday. I'm not even a huge chocolate fan and these guys have me completely convinced that I need to reevaluate my dessert standards– they're devilish, I tell you.
Chocolate. Caramel. Chocolate. Chocolate. Caramel. The End. Amen.
And that's about all I have to say today. The caramel kind of speaks for itself, if you ask me.
You'll start by making the caramel layer by combining a bag of pre-made caramels with a bit of whipping cream and vanilla extract. You can definitely use the wrapped caramels, but if you can find them totally use the caramel bits so you don't have to unwrap all 45,000 individual caramels.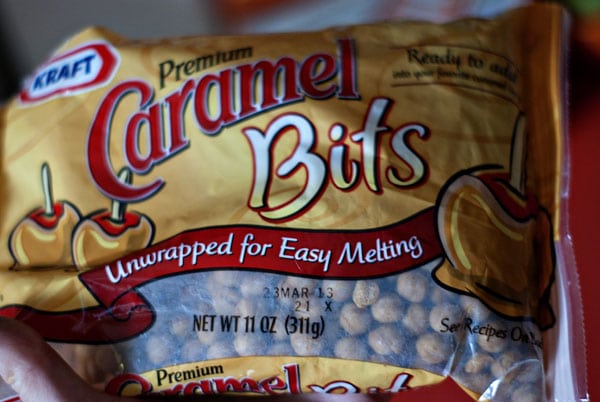 Place on the stove-top over medium-heat and stir until melted and smooth. Set aside.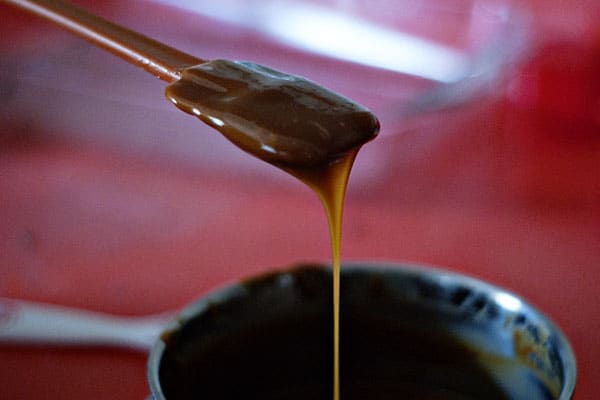 Pour a dry devil's food cake mix (appropriate, no?), a little whipping cream, and a melted stick of butter into a bowl and stir until well combined- the mixture will be thick.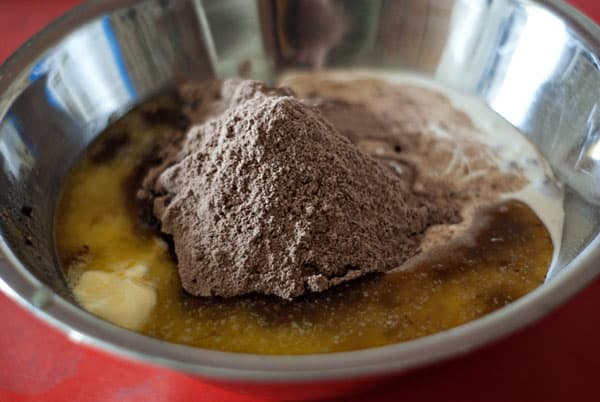 In a greased 8×8″ pan press about 2/3 of the brownie batter into an even layer on the bottom and place into the oven to bake for about 6 minutes to set. You'll probably want to lick the spatula.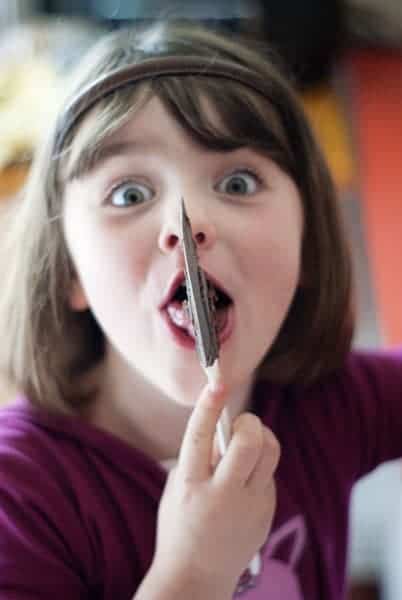 Remove from oven, top with a handful (or 2, 3!) of chocolate chips…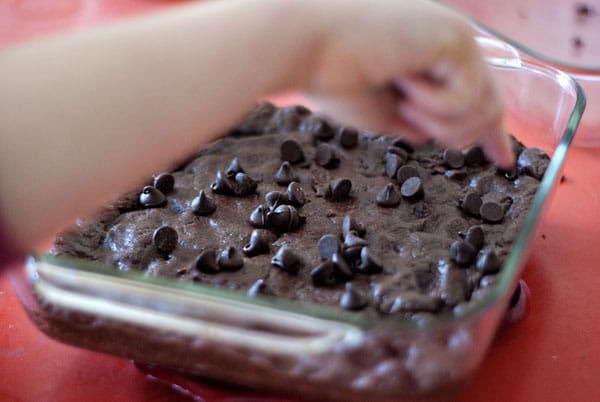 …pour the caramel over the top…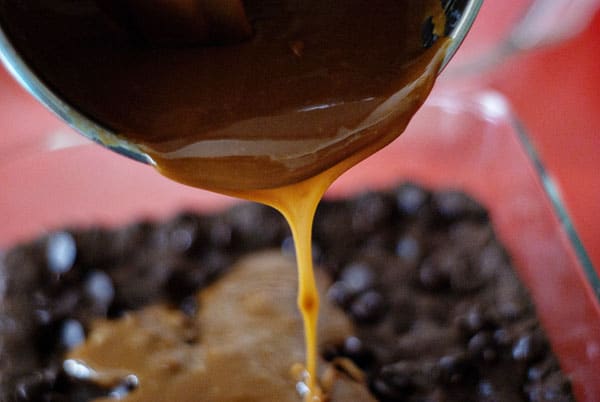 …and crumble the remaining brownie batter over the caramel.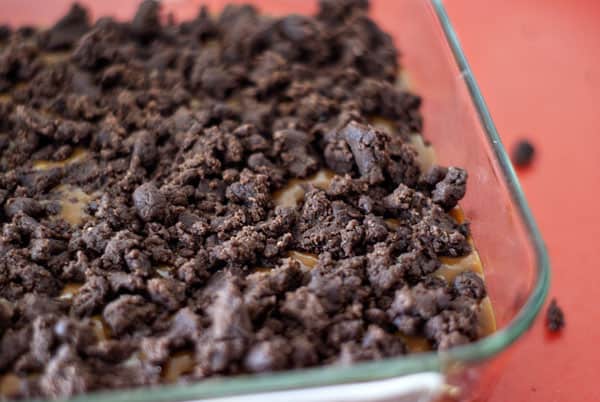 Return to the oven and lick remaining spatulas.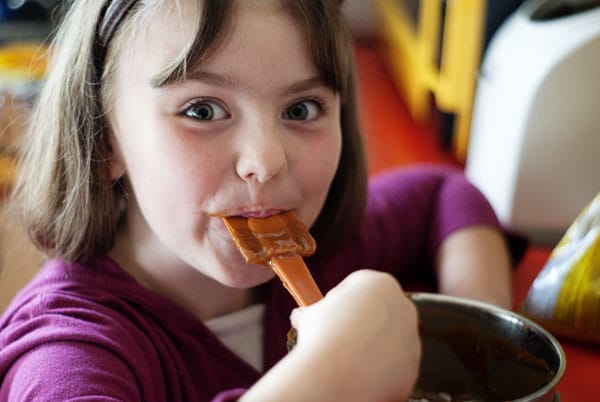 Now put on your poodle costume and help sister do some of that licking.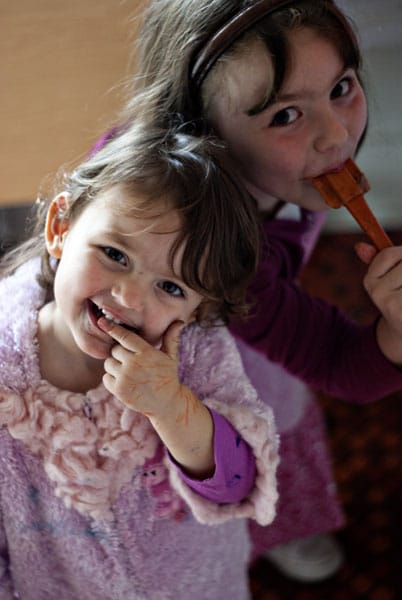 Remove from the oven and enjoy!
Whoa! What?!
Now, not so fast, impatient one! Bad things happen to those who can't wait to cut these brownies. Well really, the worst that can happen is that you'll end up with a molten mess of chocolate and caramel and in the big scheme of things, that's not so bad. But if you want a finished product that actually resembles brownies you'll have to be patient and wait fo
r them to cool completely. It will be hard, but you can do it! The gooey, melty caramel effect can be achieved by placing a single brownie in the microwave for a few seconds before eating (that's what I did for the final picture above).
Ingredients
1

box Devil's Food Cake Mix (18.25 oz)

1/2

C butter, melted

2/3

C whipping cream, divided

1/4

C chocolate chips

1

bag caramel bits (11 oz)

1

tsp vanilla extract
Instructions
Preheat oven to 350
Combine caramel bits, ⅓ C whipping cream, and vanilla in a small sauce pan and melt over medium heat until smooth, stirring constantly. Set aside.
In a medium sized bowl, combine dry cake mix with the remaining cream and melted butter. Press ⅔ for the brownie batter into the bottom of a greased 8x8" pan and bake for 6 minutes.
Remove from oven and top with chocolate chips followed by the caramel. Crumble remaining brownie batter over the caramel and return to the oven for 15-18 minutes.
Cool completely before cutting.

Made this recipe?
I'd love to see how you rocked it! Share your photo on Instagram with the hashtag
#heatherlikesfood  --
It will totally make my day to see it!