Move that jarred stuff to the side and feast your food-loving eyes on this beaut. Homemade Spaghetti sauce is where it's at, folks. It takes a little bit of work, but it's WELL worth it in the end!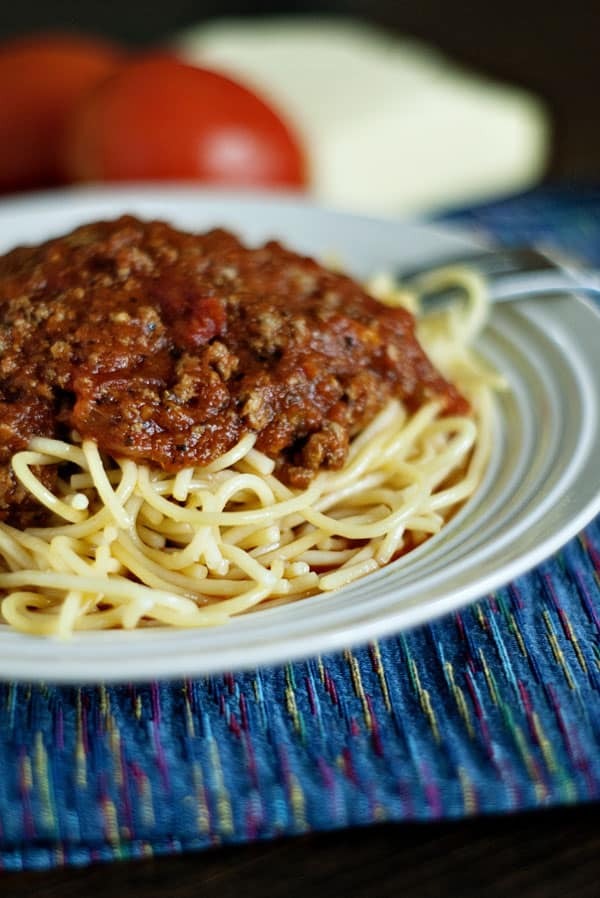 This homemade spaghetti sauce recipe was originally posted in 2013 and I'm bringing it back to front of the blog with a brand new video! Woot woot!
But first, let's get real for a minute.
I've been at this blogging thing for a while now and quite frankly, I've been getting increasingly bored. Maybe you've picked up on it over the past few months as my posts are been few and far between and little gems like this post have surfaced. (BTW, make that recipe.) I've really struggled this year to find my stride here and muster up the motivation to create, photograph, and share recipes. It wasn't hard before– It was fun. It was exciting, even. But now, not so much.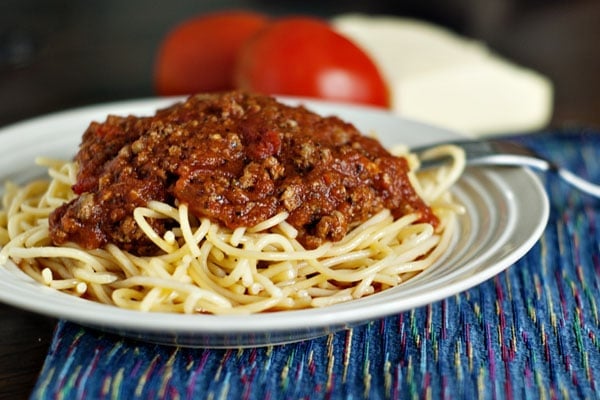 Maybe it's because it's turned into a full-blown job. I didn't intend for this blog to ultimately make it possible for my husband to attend grad school and not have to work when I started this. It's absolutely incredible that this is what it's become and I feel so, so blessed that it did. I also feel like that fact alone should fuel my enthusiasm, but it doesn't.
I've loved blogging. I really have, and honestly I still do. I love the freedom it gives me. I love the people I've met because of it. I love the things that I've learned. But I need a change. Not a shut-the-blog-down-change. I'd equate that to telling one of my children I'm not interested in being their mother anymore– It's too sad to even entertain the idea. But a change, nonetheless.
Enter YouTube.
After many frustrating talks with the hubs about where I should go with the blog and what I should do next, we kept coming back to video. I never thought I'd jump on the YouTube wagon. I feel much more comfortable behind a keyboard and a screen than I do in front of a camera, vulnerable and performing.
But you know what? It's kind of awesome. As I set up the shoot and my 10 year old played the role of "production assistant" and gave me the thumbs up or down and made me completely loose my train of thought while I was talking on camera, I realized how much fun I was having and that I needed to do it more.
So yes, I'm only one video in and yes, it was a poop-ton of work– like 10 times the amount of work a blog post takes! But I'm having fun and that excitement I had when I first started Heather Likes Food is coming back! yay.
Looooooong story short, a lot of my energy is going to be focused on video now. I'll still be making a blog post for every video I make, but fully dedicated blog posts will be hit or miss for at least the next little while.
I hope you'll come with me on this fun little adventure I'm going on and subscribe to my channel on YouTube. It's a little bit scary to put myself out there this way, but what's the worst that can happen? … don't answer that. Ha!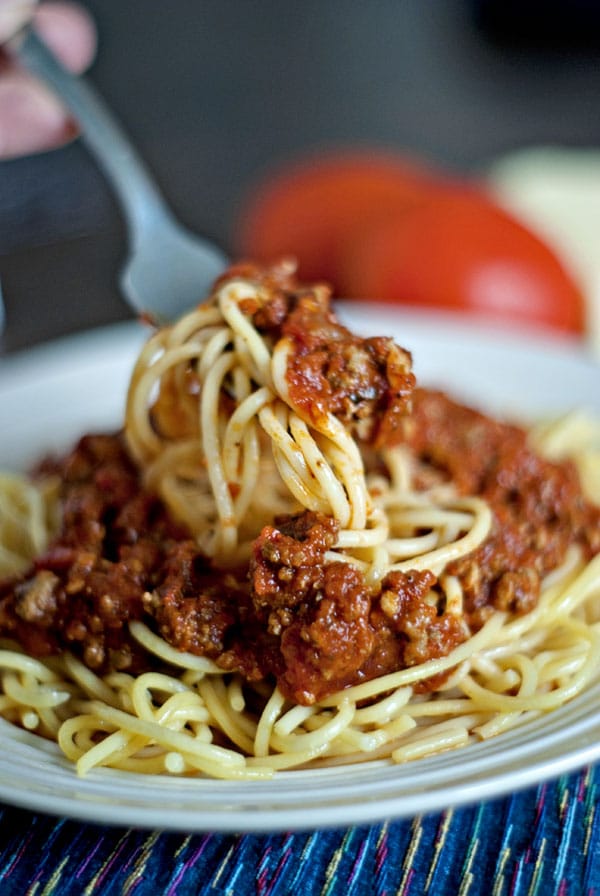 Homemade Spaghetti Sauce
Besides the fact that this sauce is delicious, I love that this recipe makes a TON. We generally eat it for dinner once, spoon enough of it into a freezer bag for another meal somewhere down the road, and save a few cups of it in the fridge for easy leftovers or other kitchen endeavors. It's double-duty recipes like these that I love to keep on hand for busy school nights and whenever my motivation to cook dinner runs dry.
Print
shopping list
Ingredients
3 tablespoons olive oil
2 cups onion, chopped and divided
1 red pepper, coarsely chopped
1 pound ground beef
1 pound italian sausage
5 cloves garlic, finely chopped
1 12 oz. can tomato paste
2 teaspoons kosher salt
1 teaspoons black pepper
3 teaspoons dried oregano
3 teaspoons dried basil
1 1/2 teaspoons dried thyme
1 pinch red pepper flakes
2 14-oz. cans Italian-style stewed tomatoes
2 28-oz. cans crushed tomatoes
8 oz fresh mushrooms, sliced
2 cups beef broth
1/4 C brown sugar
2 bay leaves
2 tablespoons balsamic vinegar
Directions
Heat olive oil over medium high heat. Add ½ of the onions and saute until translucent and slightly browned. Add garlic and stir constantly for 1 minute. Add beef and sausage and cook until no red remains. Drain excess fat off of the cooked meat and return to the pan
Place the remaining onions and red pepper in a blender or food processor and blend until mostly smooth. Add mixture to the garlic, onions and beef and stir to combine, cooking for another minute. Add tomato paste and spices and cook for 1 minute, stirring until combined. Add tomatoes, beef broth, sugar and mushrooms. Stir until combined and add the bay leaves and balsamic vinegar.
Bring to a boil and then reduce to low and simmer for 1 hour up to 3-4. The longer it simmers, the more flavorful it will get. The sauce will seem watery at first, but as it simmers it will thicken.

Made this recipe?
I'd love to see how you rocked it! Share your photo on Instagram with the hashtag
#heatherlikesfood  --
It will totally make my day to see it!
Click here for the Cheesy Garlic Bread and Balsamic Vinaigrette recipes talked about in the video.