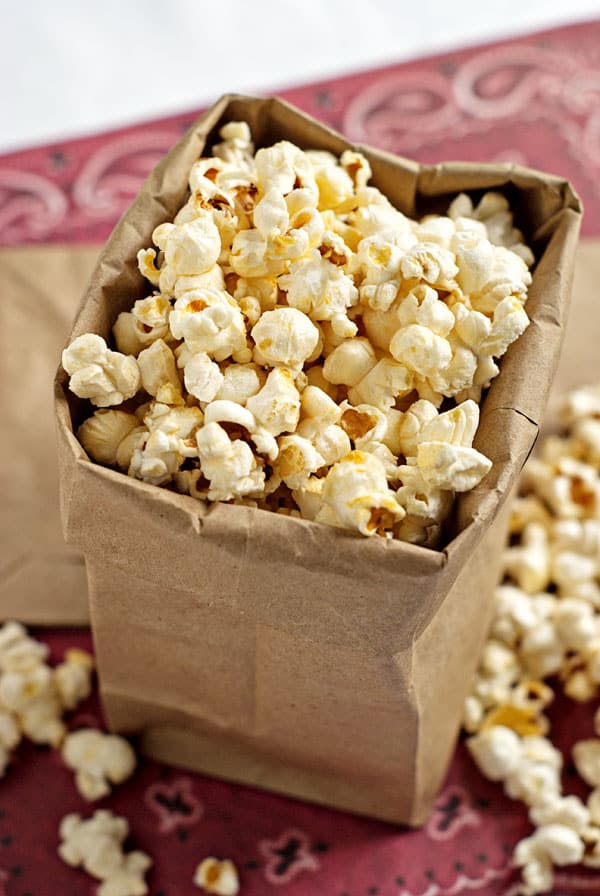 First off, if you haven't subscribed to get my new posts delivered straight to your email inbox you can do so in the sidebar. Just enter in your email address and you'll be set to not miss a single recipe!
Am I right about kettle corn being something that people either love or hate? I can't even fathom why people wouldn't like crunchy, sweet, and salty popcorn, but to each their own I guess.
I'm going to share my recipe with you for how I make kettle corn, but it's the process that can either make or break your popping experience. If you're intimidated by the thought of making your own, don't be! It really is super simple, especially with a little know-how. We make this at least once a week as an after-school or movie night snack. It's the perfect balance of sweet and salty that satisfies both cravings effortlessly without making you feel like you've fallen of the wagon. Yes, I know it's sugar coated popcorn cooked in oil. But it's better than sitting down with a piece of carrot cake or bag of chips, right? 
To start, you'll need a large pot that has a cover and is light enough to pick it up and shake around a bit. However, super light pots like aluminum stock pots with thin bottoms don't distribute heat very well and will leave you with a burned mess of sugar and un-popped corn.
Get your popcorn ready by combining ½ c of popcorn kernels with ¼ C sugar.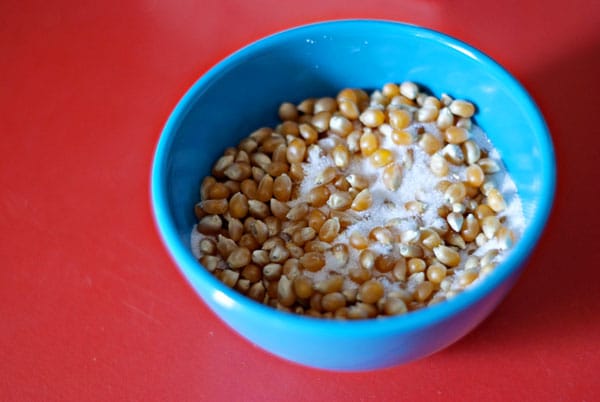 Heat 2 tablespoon of vegetable oil in the pot over medium-high heat until it's just starting to smoke. I know you're going to want to put the popcorn in before the oil is hot enough, but don't do it! Watch for the smoke--you might have to get down and look horizontally over the pot because it can be hard to see.
Once you see a wisp or two of smoke, pour in the popcorn and sugar and stir for about 30 seconds or so-- just long enough to mix up the sugar and let some of it start to melt.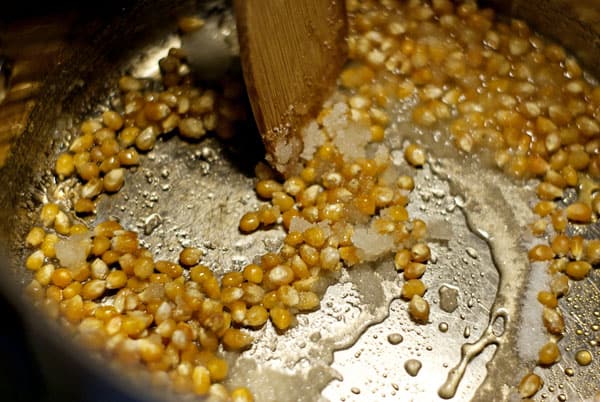 This is where it gets fun! Put the lid on the pot and drape a kitchen towel over the top and onto the handles. You need to be able to pick up the pot and hold the lid on while shaking it without burning your fingers off. The corn should be starting to pop by now. If not, lift the lid for just a second to let some pressure out and they'll likely start.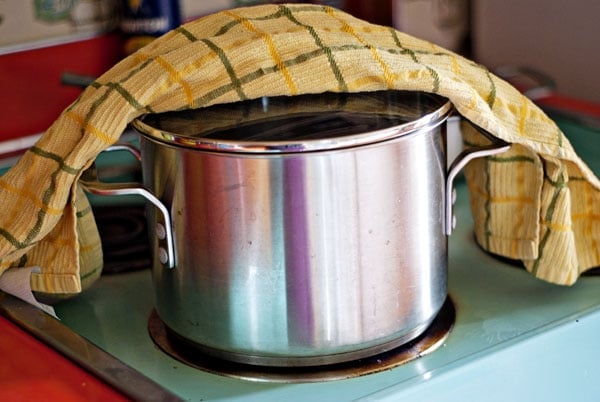 Every 30 seconds or so, pick up the pot shake it all around and then put it back on the heat. Continue until the most of the popping stops and remove from heat. Sprinkle with as little or as much salt as you'd like and transfer into a bowl.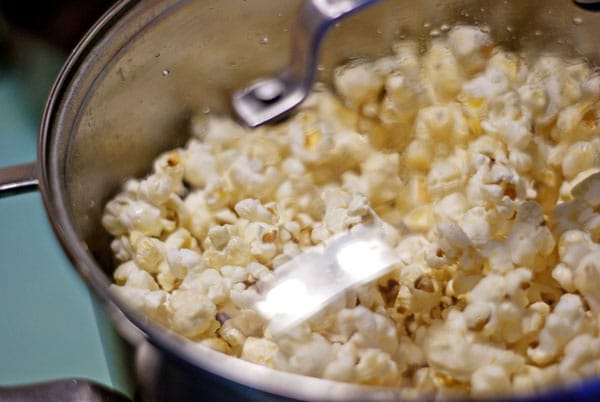 You'll want to start shoveling it in your face immediately but remember that we did just coat popcorn in molten sugar. Be patient or at least promise not to sue me for a burned mouth/fingertips. Don't say I didn't warn you :).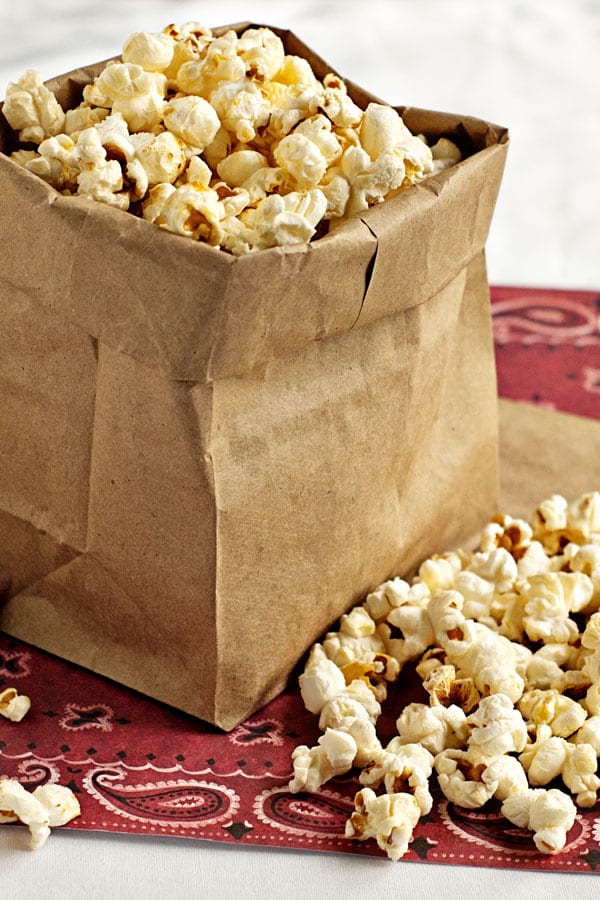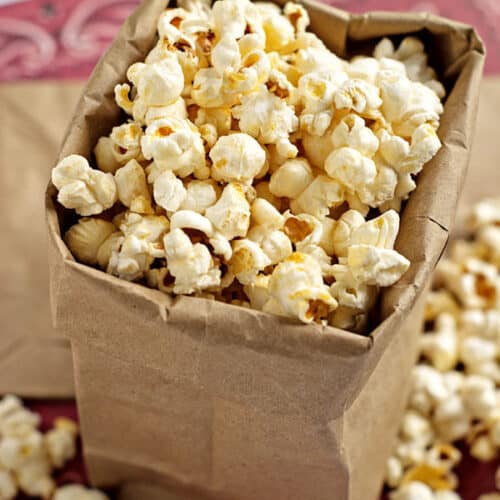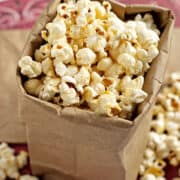 Stove Top Kettle Corn
Sweet and salty popcorn made on the stovetop for the ultimate homemade snack!
Print
Pin
Rate
Ingredients
2

tablespoon

vegetable oil

½

C

popcorn kernels

unpopped

¼

C

sugar

salt to taste
Instructions
Combine popcorn and sugar in a small bowl and set aside.

In lidded, a heavy-bottomed pot that is still light enough to pick up and shake, heat oil over medium-high heat.

Heat until the first few whisps of smoke form and pour popcorn and sugar into the pot. Stir for about 30 seconds to distribute the sugar and place the lid on the pot.

Drape a towel over the top of the pot and onto the handles to keep your hands cool.

Every 30 seconds pick up the pot, hold on the lid, and shake all around. Return to the heat and repeat this process until most of the popping has stopped.

Remove the pot from the heat and sprinkle with salt to taste.
Nutrition Facts
Serving:
1
serving
|
Calories:
186
kcal
|
Carbohydrates:
28
g
|
Protein:
2
g
|
Fat:
8
g
|
Saturated Fat:
6
g
|
Sodium:
2
mg
|
Potassium:
56
mg
|
Fiber:
3
g
|
Sugar:
13
g
|
Calcium:
1
mg
|
Iron:
1
mg
ARE WE FRIENDS ON INSTAGRAM?
Tag me @heatherlikesfood and use #heatherlikesfood so I can see what you're making and enjoying!