One bowl + one short-cut ingredient = easy blueberry muffins! SO EASY, even a baby can make them! Don't believe me? Watch the video!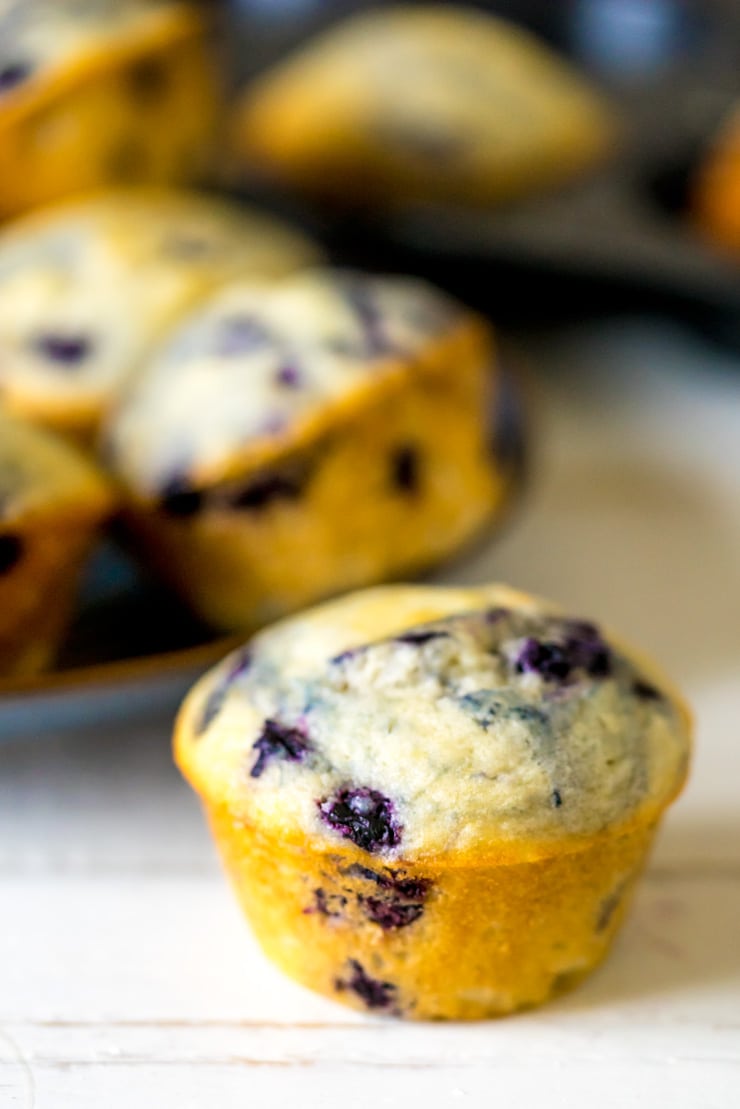 I'm silently squealing right now as to not wake the whole house up. I've been so excited to get this post up because not only are these the quickest and easiest blueberry muffins of ALL TIME, but we made a ridiculously cute video to go with this recipe and I LOVE it.
It could be that I'm just a crazed totally normal Mom that thinks her son is the cutest (and rightly so!), but I'm of the opinion that he's of above average cuteness. Take a look!
[brid autoplay="true" video="484762" player="19763" title="Fail Proof Blueberry Muffins" duration="61" description="Fail Proof Blueberry Muffin Recipe" uploaddate="2019-10-30 15:19:49" thumbnailurl="https://cdn.brid.tv/live/partners/15101/thumb/484762_t_1572449029.png"]
Am I right? I cracked up during shooting when he cracked that egg and it startled him. Ahhhhhhh!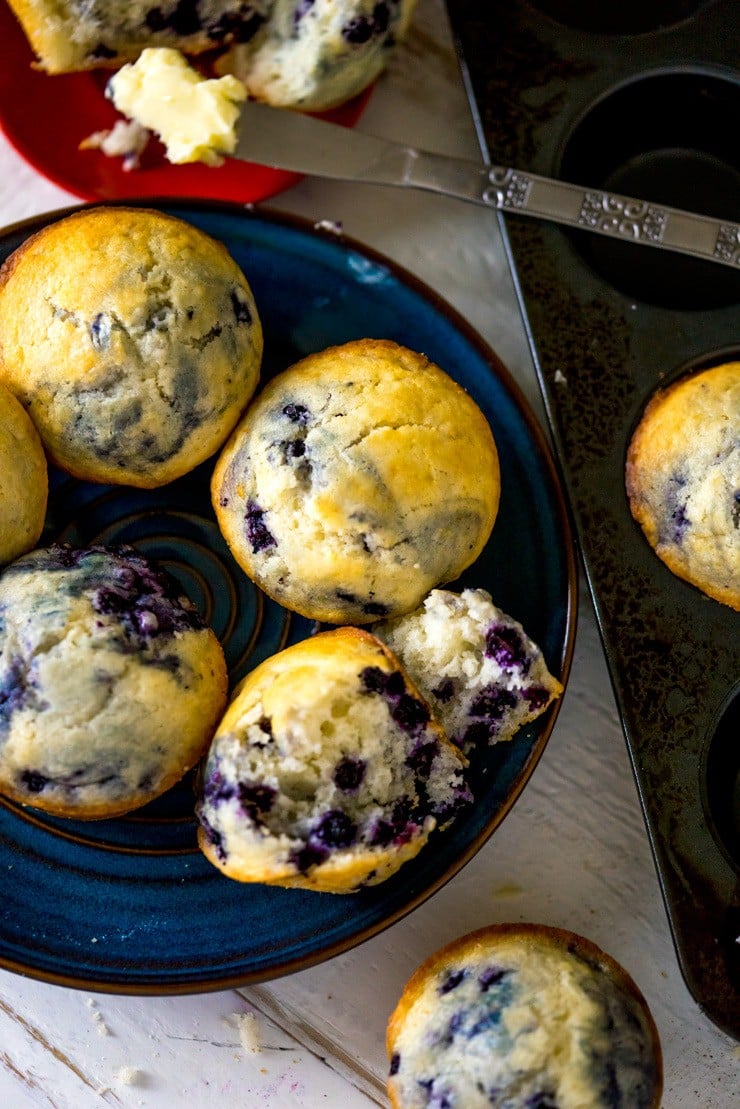 Be Sure to Sign Up For My Email! New Recipes Delivered Straight to You!
Okay, enough of my gushing. Let's talk about these easy blueberry muffins! Don't they look dreamy? The secret to making these so easy is using Self-Rising flour.
Self-Rising Flour is basically all-purpose flour with salt and baking powder already added in so it cuts out a few steps. If you don't have any on hand you can still make these, though! I'll add a recipe to make self rising flour in the recipe below.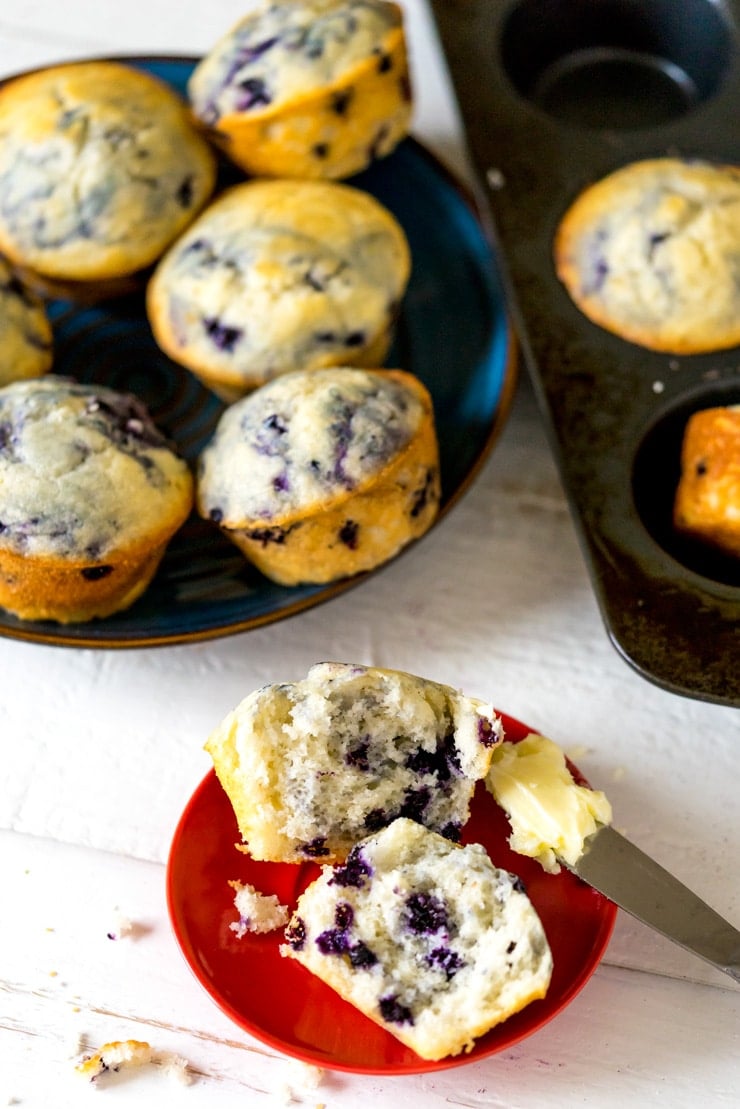 These easy blueberry muffins are just the right of sweet and don't cross over into frosting-less cupcake territory like some muffins do. They also have a very light crumb with the perfect about of moistness. I hope you try them!
Want More Easy Muffin Recipes?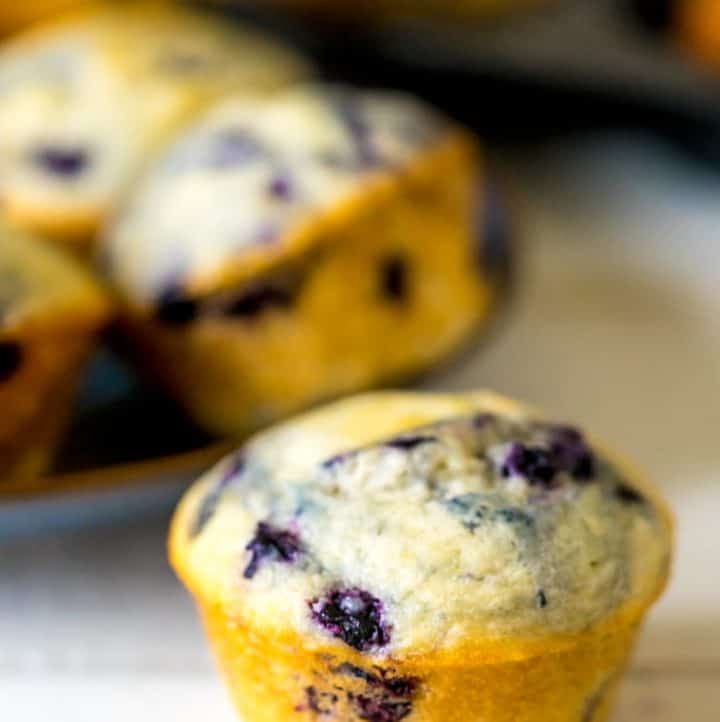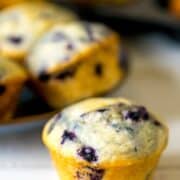 Fail-Proof Easy Blueberry Muffins
One bowl + one short-cut ingredient = easy blueberry muffins! SO EASY, even a baby can make them! REALLY!!
Print
Pin
Rate
Ingredients
1 ¾

cup

Self-Rising Flour * See Notes*

1 ½

teaspoon

baking powder

½

cup

+ 1 tablespoon sugar

1

cup

frozen blueberries *See Notes*

½

cup

vegetable oil

1

cup

milk

1

egg

1

teaspoon

vanilla extract
Instructions
Preheat oven to 400 degrees and coat a muffin tin with cooking spray. Set aside.

Combine the flour, sugar ,baking powder in a bowl.

Combine the milk, egg, oil, and vanilla in a separate bowl and whisk until combined.

Pour the milk mixture into the dry and lightly mix just until no dry spots remain-- the more more you mix the tougher the muffin will be.

Gently fold frozen or fresh blueberries into batter and immediately scoop into the muffin tin.

Bake for 15-20 minutes until the center of each muffin is set. You'll know it's set when you gently press on the top of a muffin and it springs back instead of sinking. Remove from the oven, allow to cook for 5 minutes and remove from muffin pan.
Chef's Notes:
If you don't have self-raising flour on hand, combine 2 C All Purpose flour, 1 teaspoon salt, and 1 tablespoon of baking powder in a small bowl. Whisk until well combined and measure out the amount you need for the recipe.
I used frozen wild blueberries for the muffins in the pictures and video. I like the wild blueberries because they are small and are great for muffins but they do bleed ALOT. Meaning that if you're not careful your batter will turn purple incredibly quick. If you'd like to use these blueberries make sure they are VERY frozen and just barely fold them in enough to get them somewhat evenly through the batter. Standard frozen blueberries will bleed but not nearly as much and fresh blueberries don't bleed at all. Use what have!
Nutrition Facts
Serving:
1
muffin
|
Calories:
202
kcal
|
Carbohydrates:
24
g
|
Protein:
3
g
|
Fat:
10
g
|
Saturated Fat:
7
g
|
Cholesterol:
15
mg
|
Sodium:
15
mg
|
Potassium:
110
mg
|
Sugar:
10
g
|
Vitamin A:
60
IU
|
Vitamin C:
1.2
mg
|
Calcium:
49
mg
|
Iron:
0.3
mg
ARE WE FRIENDS ON INSTAGRAM?
Tag me @heatherlikesfood and use #heatherlikesfood so I can see what you're making and enjoying!
I'm serious, you want to sign up for my Email! You'll never miss a dang recipe!