Super Soft Sour Cream Sugar Cookies - Sometimes I just want to sit on the couch with plateful of frosted cookies while watching some trashy TV and use my finger to methodically lick every cookie free of frosting-- and then eat the cookies. Is that weird? I'm not saying I've ever done it, but if I did it would be with these sour cream sugar cookies. They remind me of the ever-so-famous Lofthouse cookies without all the ingredients my 7-year-old can't sound out.  Which totally justifies me in eating more than 6 in a sitting.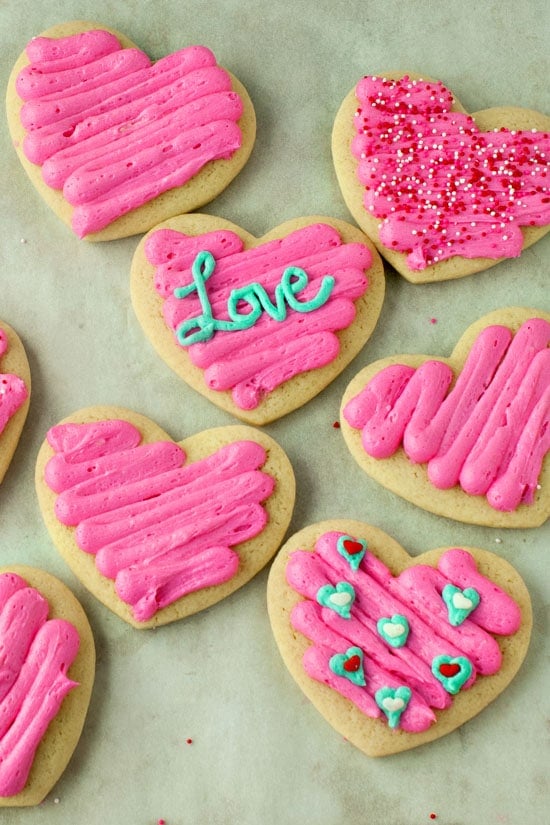 One of my favorite things about this Super Soft Sour Cream Sugar Cookies recipe is that the cookies actually hold their shape and don't spread while baking. This means that my T-Rex cookies always look like a dinosaur as opposed to a sad cookie that vaguely resembles Italy. I also love that they actually taste better a day or two after you make them and stay nice and soft for a good 4-5 days when stored in an airtight container.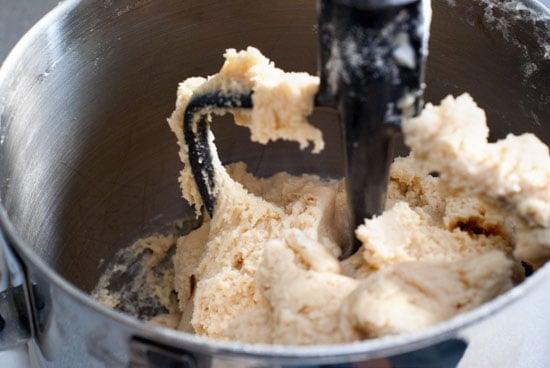 How to Make Super Soft Sour Cream Sugar Cookies
The dough comes together just like any basic cookie recipe-- cream the butter, sour cream, sugar, add eggs, flour, etc. Once it's put together split the dough into half and press each half onto a piece of plastic wrap in the shape of a square or rectangle. Wrap them up and let chill in the fridge for at least and hour to firm up.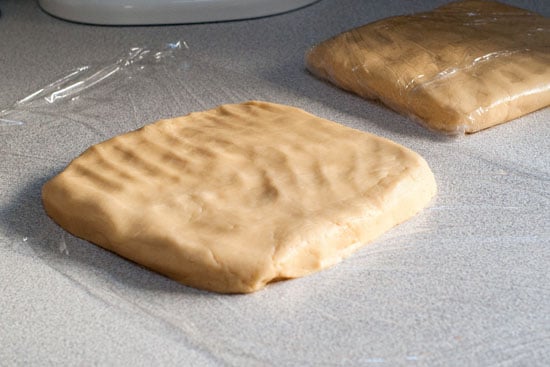 Once the dough is nice and chilled, unwrap and place on a well floured countertop to roll out. Since it's already in the shape of a square and flat it should be pretty easy to roll out .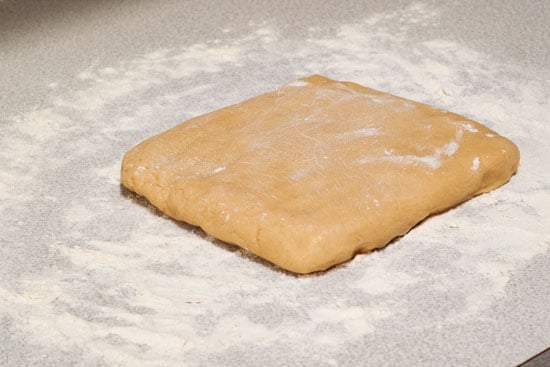 I like to roll my dough out to about ¼" thick, making sure I've got enough flour both on the bottom and top of the dough so it doesn't stick and make my life super hard.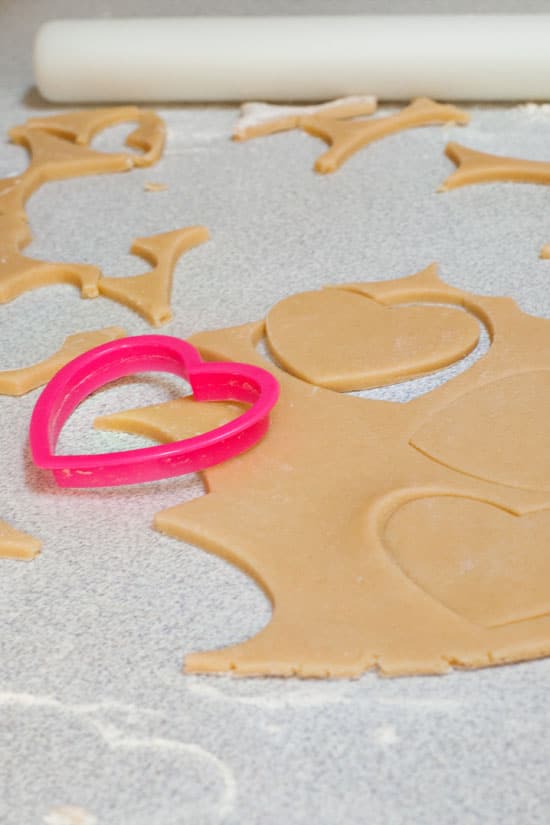 Cut out whatever shapes you want and place on a lined baking sheet. Like I mentioned before, they barely spread so you can put them pretty close together and be safe. They only take about 8 minutes to bake it's really important to make sure that they don't over-bake. Even an extra minute can change their soft texture and turn them hard. When done they won't have any browning around the edges and the bottoms won't be brown either. You might have to adjust the time based on your oven since all ovens vary.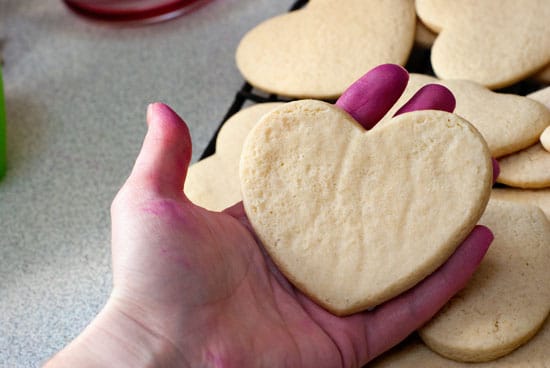 Frosting For Your Sour Cream Sugar Cookies
Place the baked cookies on a cooling rack and allow to cool completely before frosting. OR you can dip the warm cookies in frosting and let it melt into gooey perfection. I never do that.
For my frosting, I like to use a pretty basic buttercream recipe that is basically butter and powdered sugar. But to kick it up a bit, I usually use orange juice as my liquid to thin it out instead of the milk you would usually use. Depending on my mood, I sometimes add a bit of orange extract and vanilla to round it out. The orange juice adds just a tiny bit of acidity to off-set the sweetness and doesn't make it an obvious "orange" frosting. Adding the vanilla and orange extract pumps up the orange flavor just a bit and makes it kind of creamscicle-esque without being over powering. I love it.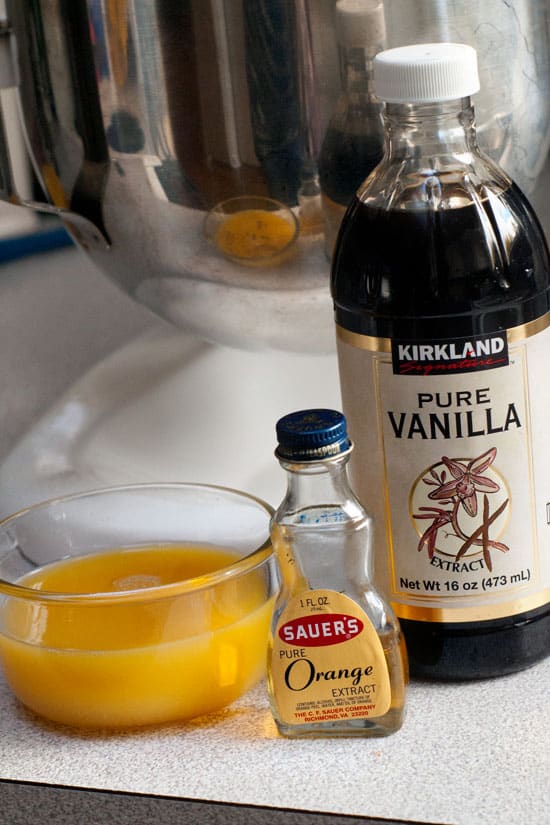 Mix it up until it's nice and fluffy, adding more powdered sugar or orange juice to either thin or thicken it out as you like.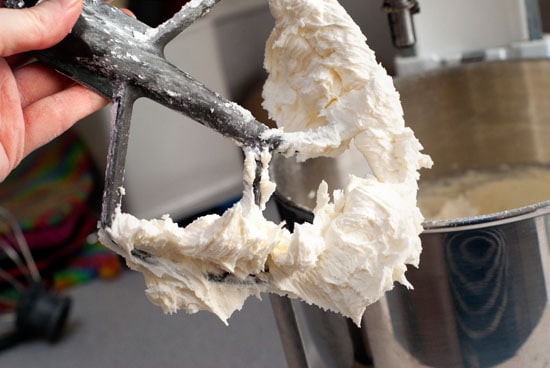 From here you can color your icing and decorate to your little heart's content. Please ignore the obvious lack of forethought I had when picking out bowls and frosting colors. My eyes hurt just looking at the picture below.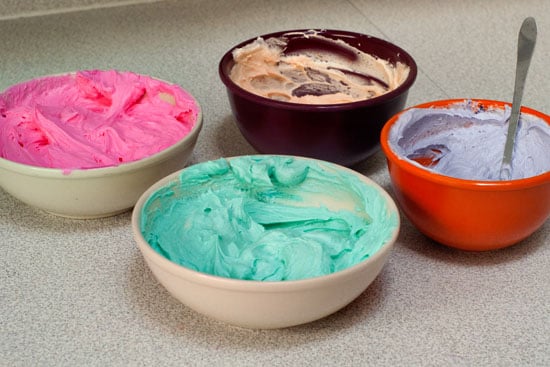 My favorite way to frost sugar cookies is to use a round decorating tip (shown is a Wilton #12) and a frosting bag.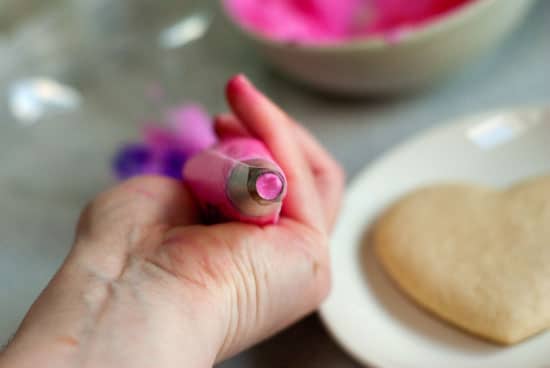 I just zig-zag back and forth across the cookie using even pressure until the entire cookie is covered. Each cookie can be frosted in just a few seconds and totally beats spreading each individual cookie with frosting using a knife.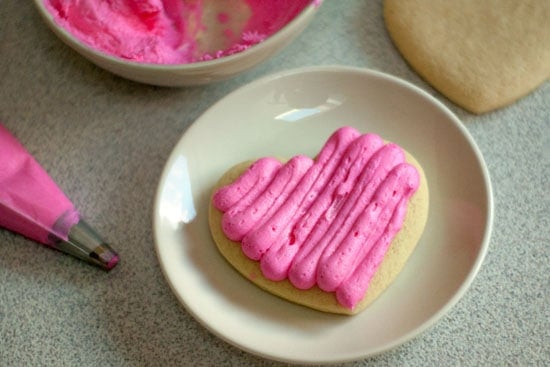 Once frosted, let the Super Soft Sour Cream Sugar Cookies sit out a few hours to harden up the frosting and then store in an air-tight container. If all your cookies don't get frosted (let's face it, this recipe kind of makes a lot), plain cookies can be stored frozen in an air-tight container for up to a month.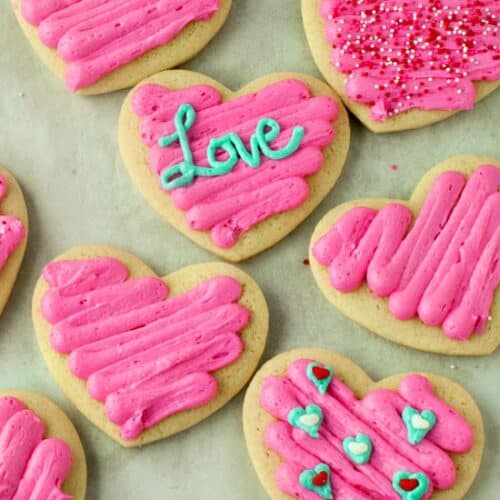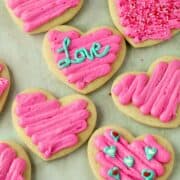 Super Soft Sour Cream Sugar Cookies
The softest, best tasting sugar cookies you'll ever make. Promise!
Print
Pin
Rate
Ingredients
1

cup

sour cream

room temperature

1

cup

butter

softened

2

cups

sugar

2

eggs

room temperature

1

teaspoon

vanilla

5-½

cups

flour

1

teaspoon

baking soda

½

teaspoon

salt

2

C

butter

softened (yes, I know it's a lot. We're frosting 5 dozen cookies here)

6

C

powdered sugar

½

teaspoon

kosher salt

½

C

orange juice

½

teaspoon

orange extract

1

teaspoon

vanilla extract
Instructions
With an electric mixer, cream the sour cream and butter at low speed; add sugar, eggs, and vanilla & mix until combined.

Gradually add the flour, baking soda, and salt to the sour cream mixture, mixing until well combined. Dough will be sticky.

Divide dough onto two pieces of plastic wrap; flatten dough into a square, wrap tightly, and refrigerate until chilled, 1-2 hours.

Preheat oven to 350 degrees.

Generously flour your counter or work surface to prevent dough from sticking. Rub flour on the rolling pin. Put one of the chilled pieces of dough on top of the floured surface and sprinkle the top of the dough with more flour.Roll the dough to an even ¼" thick all over, sprinkling with additional flour, as needed.

Dip cookie cutter in flour and cut out dough shapes. Transfer dough shapes to lined baking sheets.

Bake cookies for 8-10 minutes, Cookies are done when just set and the edges or bottoms have no color. Transfer hot cookies to a baking rack to cool completely.

Beat powdered sugar, butter, and salt in an electric mixer until smooth.

Stream in orange juice and extracts and beat until fluffy. Add more orange juice or powdered sugar as needed to thin or thicken the finished frosting.

Spread or pipe frosting on cooled cookies. Let cookies sit uncovered for a few hours to harden frosting. Store cookies in an airtight container.
Nutrition Facts
Serving:
1
cookie
|
Calories:
184
kcal
|
Carbohydrates:
23
g
|
Protein:
1
g
|
Fat:
10
g
|
Saturated Fat:
6
g
|
Trans Fat:
1
g
|
Cholesterol:
32
mg
|
Sodium:
144
mg
|
Potassium:
20
mg
|
Fiber:
1
g
|
Sugar:
19
g
|
Vitamin A:
320
IU
|
Vitamin C:
1
mg
|
Calcium:
9
mg
|
Iron:
1
mg
ARE WE FRIENDS ON INSTAGRAM?
Tag me @heatherlikesfood and use #heatherlikesfood so I can see what you're making and enjoying!
Interested in other yummy dessers?
Chocolate Chip Cookie Cake Bars