This Easy Mixed Vegetable Curry is flavorful, mild, and loaded with veggies! It's not a Thai curry and not entirely Indian; it's just a dang good vegetable curry full of flavor that you're going to love!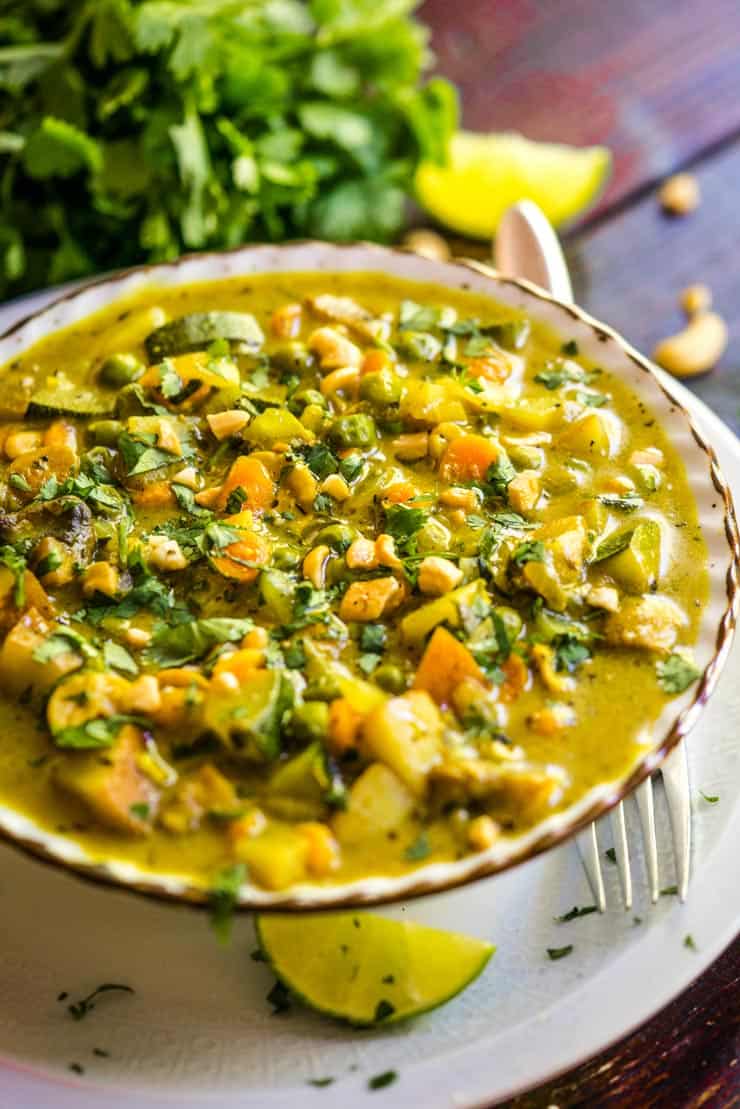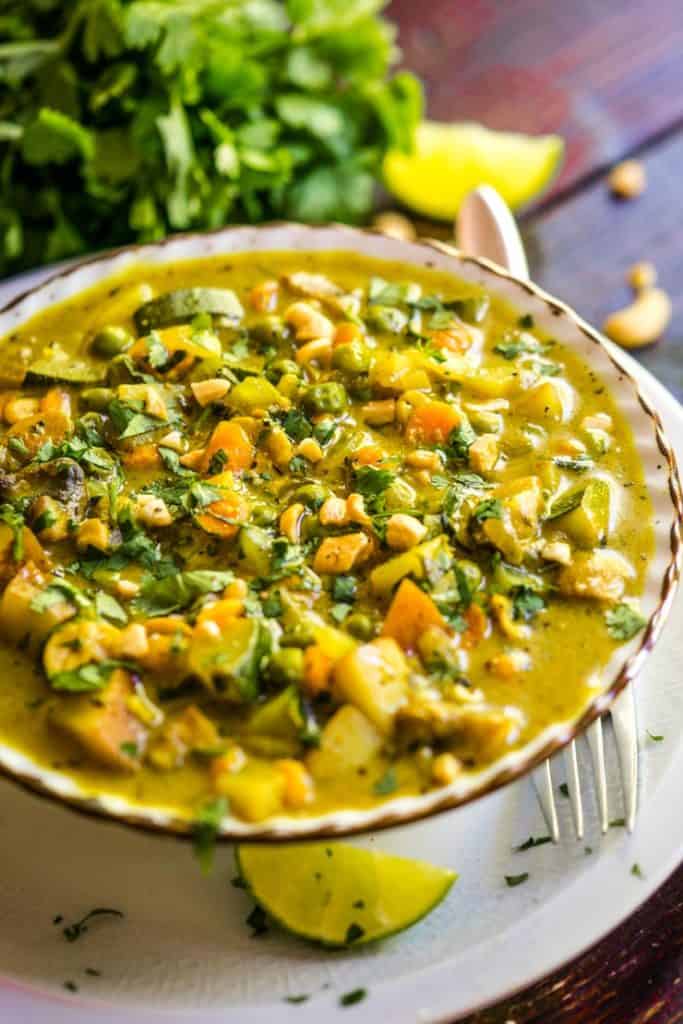 We eat a lot of curry in our house. My kids don't all love it, but the hubs, my oldest and I do, so we're hopeful the younger ones will come around one of these days. If we aren't making this particular recipe, we're making this Super Easy Chicken Curry with Coconut Milk or this Chickpea Sweet Potato Curry! And if we're really feeling indulgent, this Butter Chicken Recipe is a hit with EVERYONE.
}"This specific vegetable curry is one I like to make when I have an overabundance of veggies in my fridge just waiting to go bad. I love it because I can use just about any vegetable in this recipe and it works! I've written the recipe below with my go-to veggies, but feel free to experiment with what you have on hand.
This recipe is actually the very first recipe I ever posted here on the blog! It's been 8 years and I figured it was due time to update the pictures! 🙂
How To Make Vegetable Curry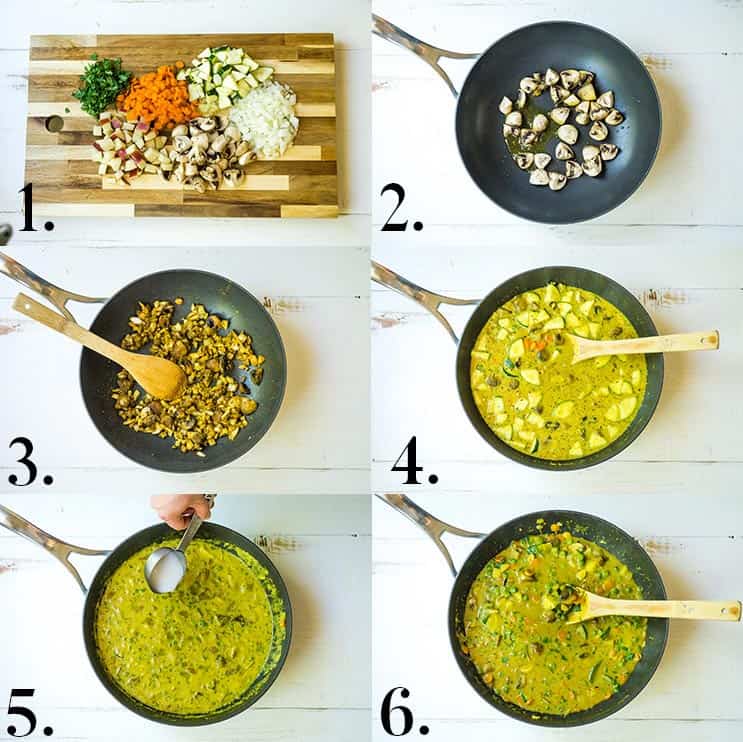 Chop the veggies that you want to use into a uniform dice, so they cook up evenly -- about 5-6 cups of total vegetables.
In a large pan, saute the mushrooms (if using) in olive oil until tender and starting to brown.
Add the onion, garlic, ginger, thyme, curry powder, and curry paste to the pan and cook over medium heat, continually stirring until very fragrant, about 1-2 minutes. This step allows the spices to "bloom" and releases their oils, creating a more flavorful curry.
Add the rest of the vegetables, coconut milk, broth, salt and sugar, and bring to a simmer and cover. Cook until all the vegetables are tender.
Thicken the curry with a little bit of corn starch and water, stirring it in and bringing to a boil, then season with a bit of vinegar and cilantro.
Serve with toasted cashews and limes!
How Do I Make My Curry Thicker?
Make a cornstarch slurry by mixing 1 teaspoon of corn starch with 3 tablespoons of cold water. Stir with a fork until the corn starch is fully mixed into the water and then stir into the hot curry. Continue stirring until the curry comes to a boil and cook for 1 minute to allow the starch to fully thicken. If the curry is not thickened to your liking repeat the above steps.
What Do You Serve With Curry?
Basmati or Jasmin Rice are fragrant kinds of rice that pair nicely with just about any curry. They can be found in most grocery stores with other types of rice and pasta. Curry is typically very flavorful and does well with a side that is more neutral to balance the flavor. Naan or flatbread is another great side dish for curry and does an excellent job of sopping up the leftovers on your plate.
What Is Curry Powder?
Curry powder is a combination of spices that most commonly includes coriander, turmeric, cumin, fenugreek, and chili peppers. Depending on the mix, it might have other ingredients like ginger, black pepper, garlic, cinnamon, clove, cardamom, etc. Most commercially made curry powders you'll find in the grocery store are going to taste similar and lend the same flavors to this and other curry recipes.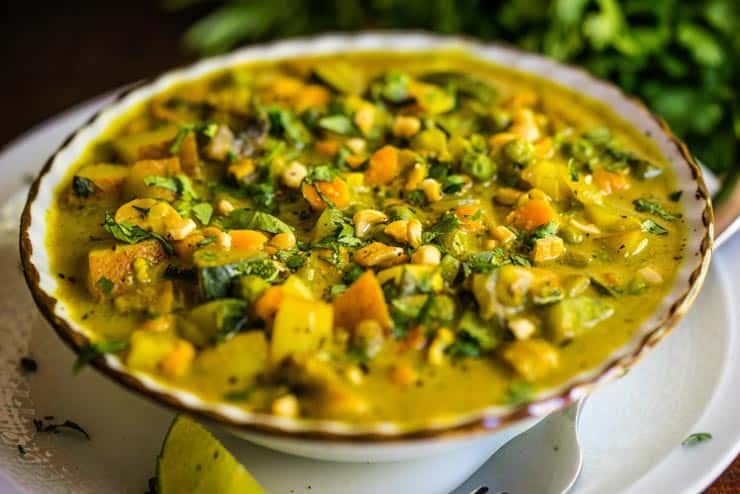 What Vegetables Should I Use?
Here is a great list of vegetables that go well in curry:
Zucchini
Carrots
Peas
Mushrooms
Potatoes
Sweet Potatoes
Eggplant
Spinach, or other Greens
Cauliflower
Broccoli
Summer Squash
Tomatoes, seeded and diced
Can I add Meat to this Mixed Vegetable Curry?
Yes! I love making food that is easily adaptable to omitting or adding meat. You can add some cut up chicken, beef or even tofu to this meal to create an even heartier vegetable curry.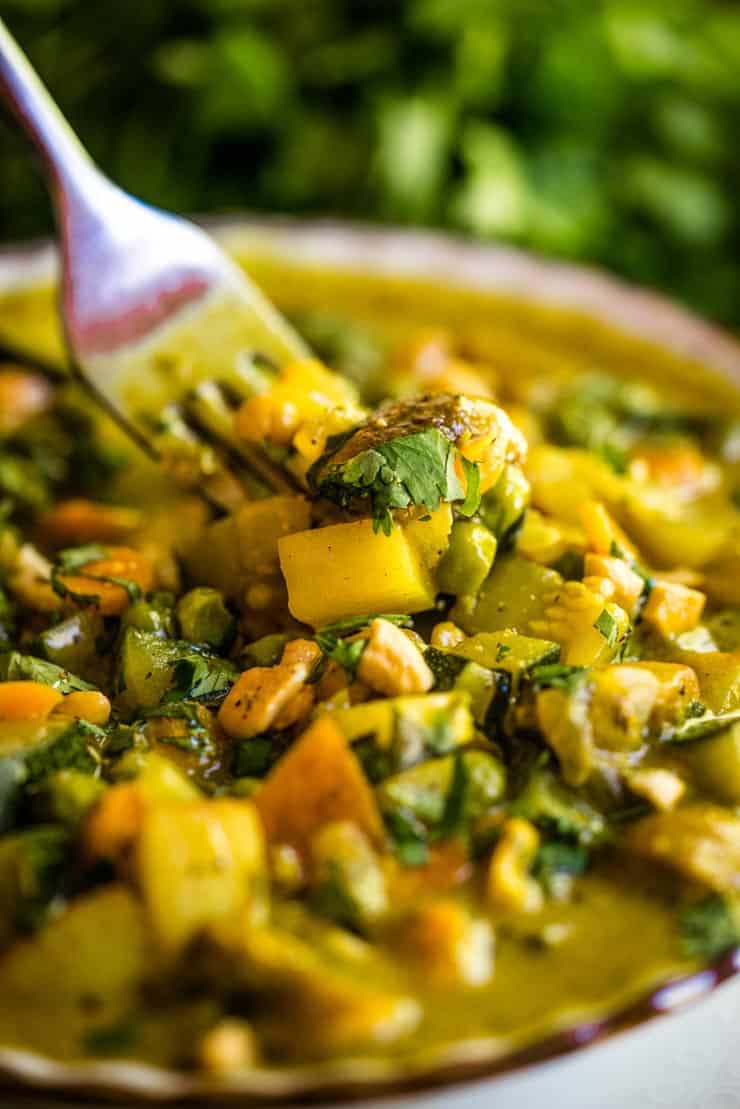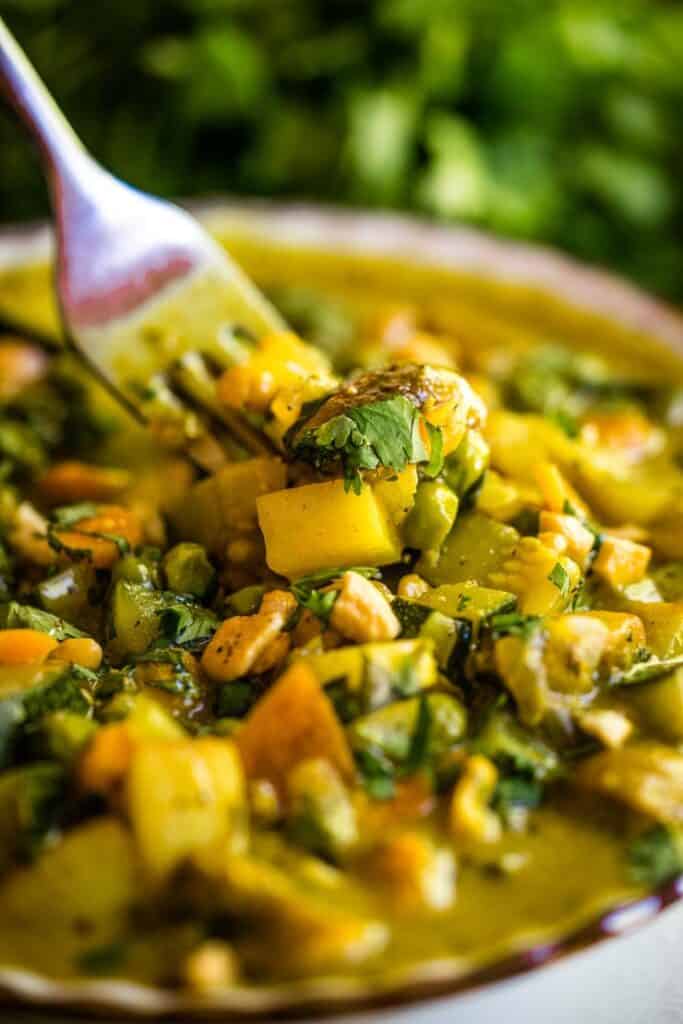 Heather Tips For Recipe Success:
The best part about this recipe is that you can use up all the veggies in your fridge! Just about any veggie can be thrown into the mix with good results. Just make sure to cut the vegetables uniformly, so they cook evenly.
This recipe calls for "Green Curry Paste." This paste is found in the Asian food aisle of your grocery store or any Asian market. Spiciness varies from one brand to the next. If you're sensitive to heat, start by adding ½ tablespoon, taste, and increase from there.
Use FRESH curry powder. Did you know spices lose flavor just by sitting on your pantry shelf? Spices over a year old just don't have the same flavor as new ones do! And, since curry powder is a combination of several different spices, you'll want to make sure you're using a fresh bottle so you can squeeze the maximum amount of flavor into this dish!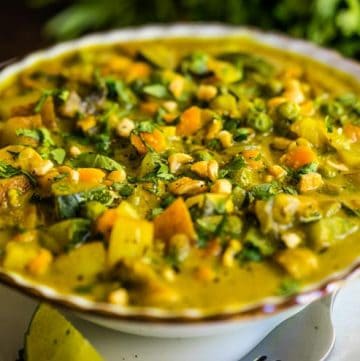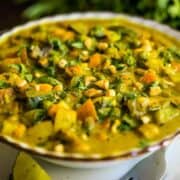 Mixed Vegetable Curry
A hearty curry filled with veggies, curry flavor and topped with toasted cashews and cilantro.
Print
Pin
Rate
Ingredients
2

tablespoons

olive oil

1

cup

button mushrooms

quartered

1

cup

white onion

chopped

2

teaspoons

garlic

minced

1

teaspoon

ground ginger

1

teaspoon

dried thyme

1 ½

tablespoon

curry powder

1

tablespoon

green curry paste

¾

teaspoon

salt

2

cups

chicken or vegetable broth

8

ounces

unsweetened coconut milk

½

tablespoon

light brown sugar

1

cup

Potatoes

peeled and diced

¾

cup

large diced carrots

peeled and diced

1

cup

large diced zucchini

diced

¾

cup

frozen peas

3

tablespoon

cold water

1

teaspoon

corn starch

1

teaspoon

apple cider vinegar

¼

cup

fresh cilantro

chopped

½

cup

toasted cashews

lime wedges for garnish
Instructions
In a large skillet, heat the oil over medium heat, and, when hot, add the mushrooms to the pan and cook, stirring occasionally until the mushrooms have released most of their liquid and are lightly caramelized- about 5 mins.

Add the onion, garlic, ginger, thyme, curry powder, and curry paste to the pan, stirring until spices are very fragrant-- about 1-2 minutes. Season with salt and add the broth, coconut milk, and brown sugar. Bring to a boil.

Add the potatoes, carrots, zucchini, and peas. Cover, reduce heat to medium-low and simmer until vegetables are tender-- about 20 minutes.

Mix the cold water with the corn starch and add to the pan, stirring until thickened. Season with vinegar and cilantro. Serve over rice, topped with toasted cashews and lime wedges.
Chef's Notes:
This recipe was first published on Heather Likes Food in 2010. I've since updated the pictures and made the recipe a bit clearer, but it mostly remained the same. 
Nutrition Facts
Serving:
1
serving
|
Calories:
267
kcal
|
Carbohydrates:
21
g
|
Protein:
7
g
|
Fat:
19
g
|
Saturated Fat:
10
g
|
Sodium:
605
mg
|
Potassium:
640
mg
|
Fiber:
5
g
|
Sugar:
7
g
|
Vitamin A:
3306
IU
|
Vitamin C:
26
mg
|
Calcium:
60
mg
|
Iron:
4
mg
ARE WE FRIENDS ON INSTAGRAM?
Tag me @heatherlikesfood and use #heatherlikesfood so I can see what you're making and enjoying!

Other Vegetarian Recipes You Might Like:
Roasted Vegetable Pasta Sauce