Easy, flavorful and a fun look back on where I started with this food blog! So glad my photography skills have improved! 🙂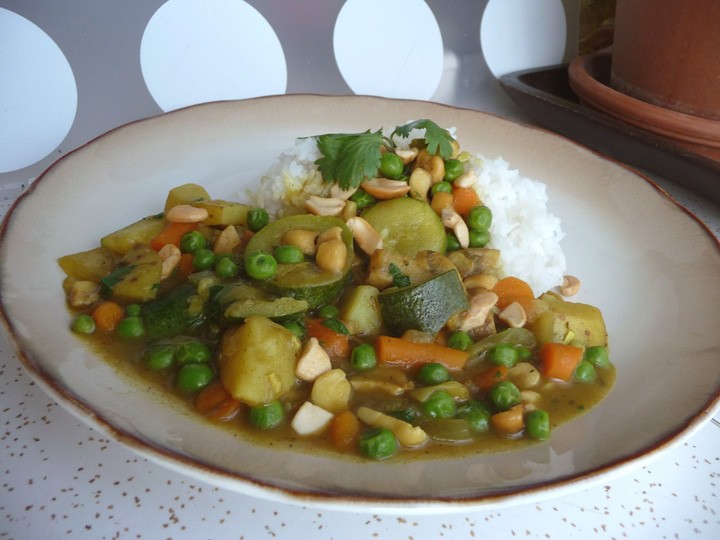 Meat. It's not my favorite food in the world.  Sure, I eat it,  cook with it,  and can enjoy a good bacon cheeseburger every other day, but truthfully, I'm not attached. However, I AM a starch junkie. In my world, potatoes, pasta, rice, and grains are so much more satisfying than meat. And  besides that, I don't' have to worry about pieces of cartilage, fat, bones, and other meat "things" interrupting my eating. I'm a little finicky about meat, but that's for another post. This being said, I love  making food that is easily adaptable to omitting or adding meat  You can easily add some cut up chicken, beef or even tofu to this meal to make an even heartier curry. But, if you're willing, try it without first. I don't think you'll be disappointed.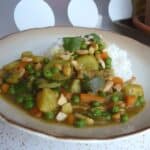 Vegetable Curry
Easy, flavorful and a fun look back on where I started with this food blog! So glad my photography skills have improved! ?
Ingredients
4

tbsp.

olive oil

1/2

lb

button mushrooms

quartered

2

cups

chopped onions

1

tbsp

minced garlic

1

tsp

ground ginger

1

tsp

dried thyme

3

tbsp

curry powder

2

tbsp

green curry paste

Makes a medium spiced curry – Lower to 1 tbsp if you like it milder.

1 1/4

tsp

salt

4

cups

chicken or vegetable stock

1 14.5

oz.

can unsweetened coconut milk

1

tbsp

light brown sugar

2

cups

large diced Yukon Gold potatoes

1 1/2

cups

large diced carrots

2

cups

large diced zucchini

1 1/2

cups

frozen peas

1

cup

toasted cashews

2

tsp

apple cider vinegar

1/4

cup

chopped fresh cilantro

3

tbsp

cold water

1

tsp

corn starch

Fresh limes for squeezing over while eating

Steamed Basmati Rice
Instructions
In a large dutch oven or skillet, heat the oil over medium heat, and, when hot, add the mushrooms to the pan and cook, stirring occasionally, until the mushrooms have released most of their liquid and are lightly carmelized- about 5 mins. Add the onion, garlic, ginger, thyme, curry powder, and paste, stirring until the vegetables are soft. Season with salt and add the stock, coconut milk, and brown sugar. Bring to a boil and add the potatoes, carrots, zucchini, and cashews to the pot - this is where you would add your meat or tofu-. Continue to cook until all the vegetables are tender. Add the peas, vinegar, and cilantro. Mix the water with the corn starch and add to the pan, stirring until thickened. Serve over basmati rice and top with the squeeze of fresh lime juice.