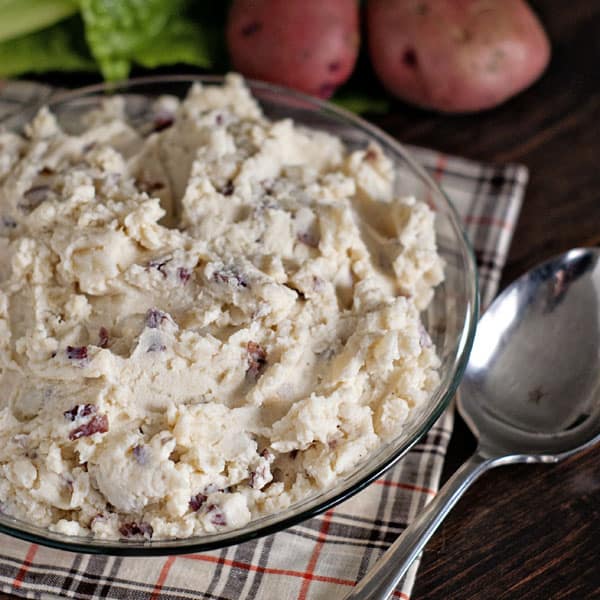 Yesterday's holiday threw me for a loop- a good loop, but nevertheless I was looped. The girls and I spent most of the day in our jammies and snuggled while doing virtual make-overs on each other on my laptop. It was awesome, I love having girls to play with! Our day ended with a trip to the salon for a hair cut on my 6 yr old. She's been BEGGING us to let her cut her hair short- pixie short- for over a year now and she finally broke her dad and I down. Yesterday was the day and she looks ADORABLE and loves it! I just hope the kids at school are kind and don't prevent her from making choices in the future that make her happy. Kids can be cruel and being a parent is haaaaard. Har-umph!
Let's jump right into today's Thanksgiving recipe- smashed potatoes. These potatoes are about as simple and easy as they get because you'll use small red potatoes which means that you don't have to peel or cut them prior to cooking. I love the texture and color that the red skins give to the finished potatoes.The roasted garlic element comes from the whole head of creamy roasted garlic you'll throw into the potatoes before mashing. For a full tutorial on roasting garlic see my post here.
Onto the gravy! I personally find making gravy from the actual drippings of the turkey to be labor-some and sometimes I don't even have enough drippings to make my gravy flavorful. For this reason I like to just make my own that stands alone from the turkey. This apple cider gravy is slightly sweet, a little tangy, but definitely savory enough to top those dreamy potatoes, turkey, and dressing. If you're really feeling the garlic vibe you can add a few smashed cloves of roasted garlic to the gravy too.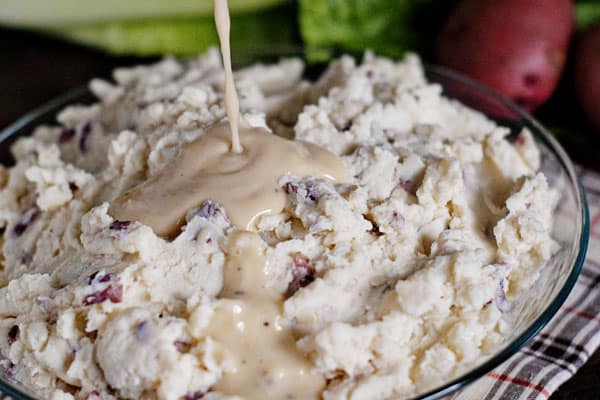 Having socially acceptable breath on Thanksgiving is completely optional in my book.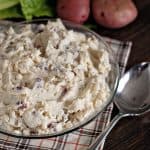 Roasted Garlic Smashed Potatoes
Ingredients
3

lbs

small red potatoes

1

C

evaporated milk

2

tbsp

butter

3/4

tsp

kosher salt

1

head roasted garlic

cloves removed from husks

1/2

C

sour cream

1/2

C

shredded parmesan cheese
Instructions
Place potatoes in a large pot and fill with water. Place pot on stove. bring to a boil and cook potatoes until they pierce easily with a fork- about 15 minutes.

Drain water completely off of the potatoes and start to smash with a potato masher. Mash in the milk, butter, salt, garlic, sour cream, and cheese. Continue mashing until they reach the consistency desired.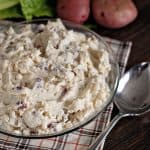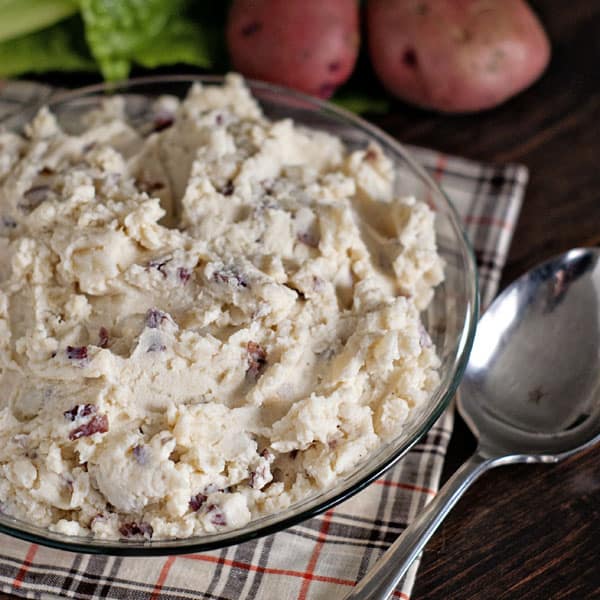 Apple Cider Gravy
Ingredients
2

tbsp

butter

1/4

C

all purpose flour

2

C

chicken or turkey broth

1

C

good quality apple cider

1

C

evaporated milk

1/2

tsp

kosher salt

1/4

tsp

black pepper

1

tbsp

roasted and mashed garlic

optional
Instructions
In a medium sized sauce pan, melt the butter, stir in flour, and let cook for 1 minute.

Add in broth and cider stirring consistently until it starts to thicken. Continue stirring and add in milk, salt and pepper and let simmer until it reaches your desired thickness. Stir in 1 tbsp mashed roasted garlic if desired.