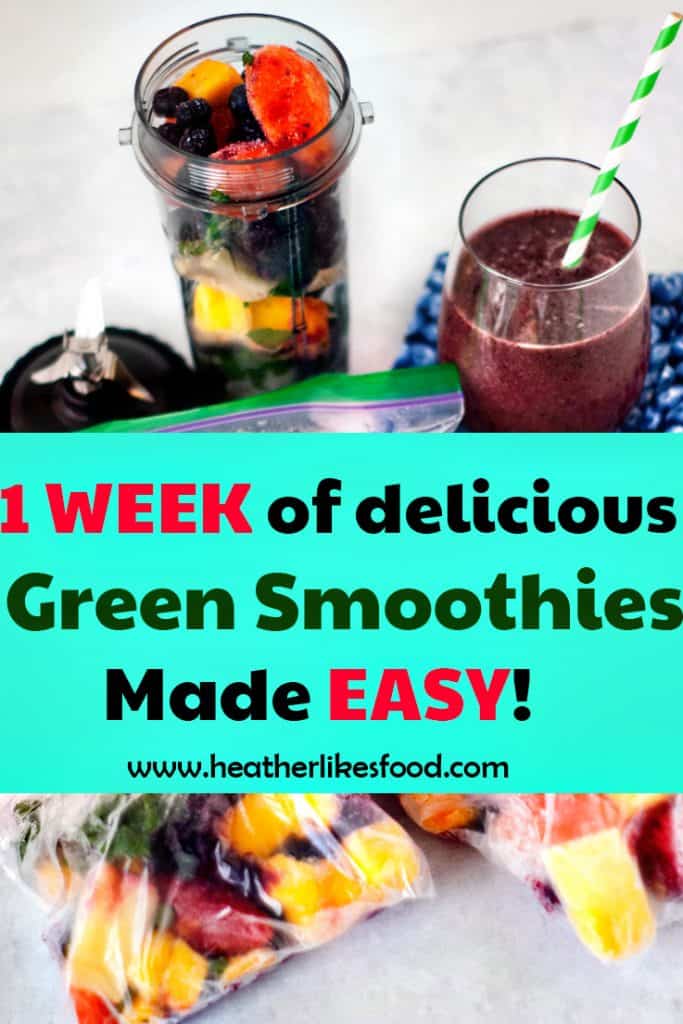 Green smoothies are something that I've grown to love fiercely over the past few years. Very few days go by without me popping one of these in the blender for me or my kiddos. As I've been trying to up my fruit and vegetable intake this year, these smoothies have been an essential part of my diet each day and I wanted to make sure to share how I make them with you! Each one of these babies gives you 3 servings of fruit and veggies, are incredibly hydrating, and give you a great energy boost.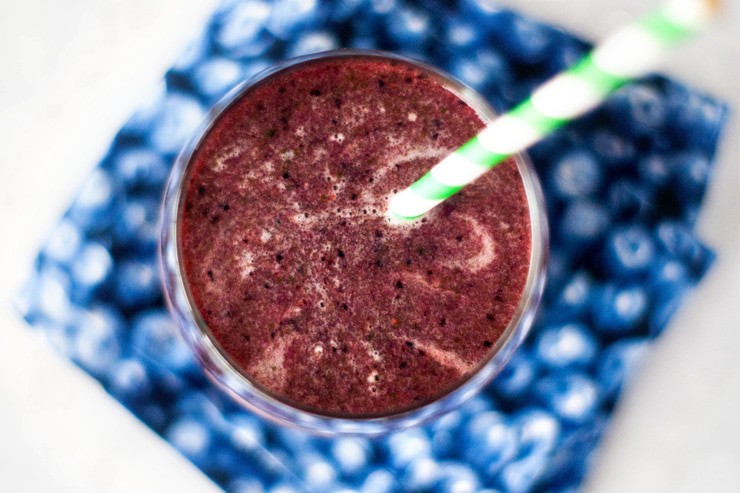 There are approximately 4.3 eleventy-gazillion recipes for green smoothies on the internet and mine might not be that much different from the next. However, I like mine the best because, 1.) It doesn't taste like you're eating grass and 2.) it tastes awesome. If I had to throw reasons 3 and 4 in there I could, but those two should be reason enough to try it out.
The Greens
Green smoothies get their name because they have greens in them. My version isn't green because the blueberries are overpoweringly purple, but they are there. My green of choice is spinach as it has the mildest flavor and breaks down super easily even in not-so-great-blenders. Kale and other greens are great and work well with this recipe too, just realize they may taste more "green" than using spinach.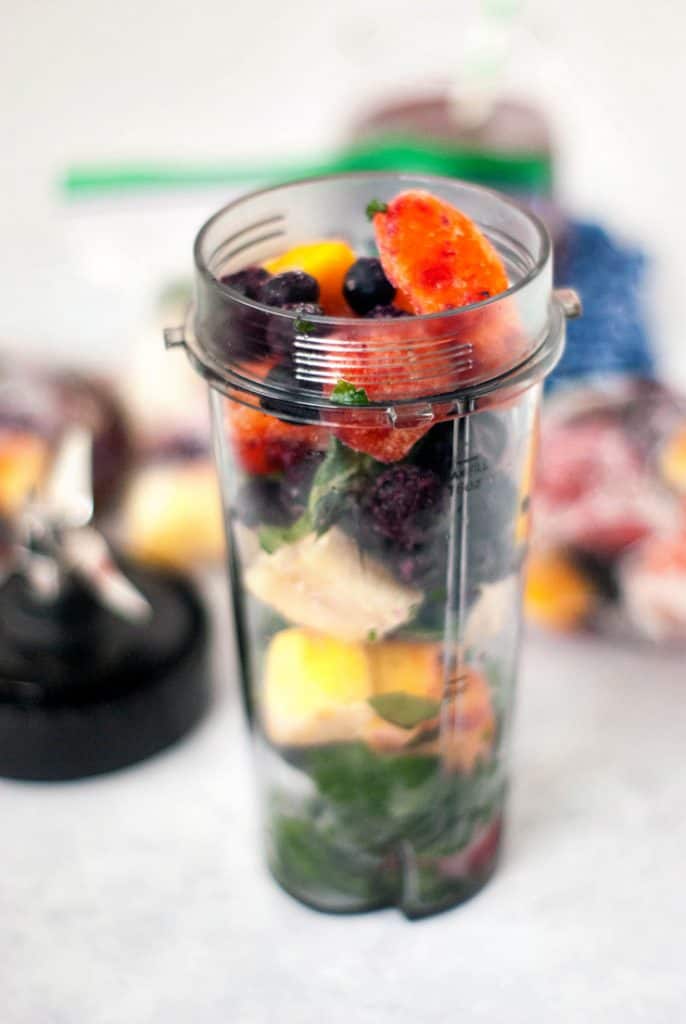 The Blender
As far as blenders go, I have this Ninja Ultima Blender and love it. The price point on it is less than other "premium" blenders (Blendtec, Vitamix) and I feel like it does a great job. Most regular blenders can process the spinach pretty well because it's soft, but if you're serious about wanting to be a smoothie maker, I'd reccommend looking at getting a higher-powered blender because it really makes a difference in your smoothies.
If you can find one that comes with individual sized blender cups that make a single serving you won't regret it! I love that I can make just one smoothie without having to dirty the whole blender jar or end up with way more smoothie than I need.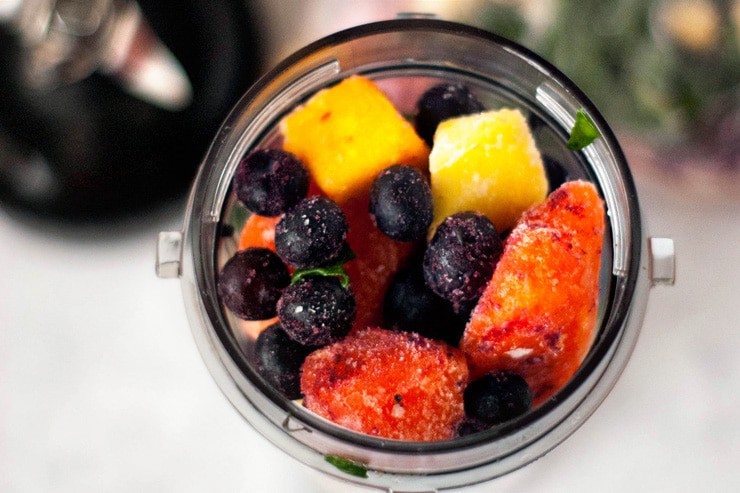 The Fruit
For my fruit I use a mix of frozen blueberries, Wawona Festival Blend (pineapple, strawberries, mango, and papaya), and fresh bananas. I get all of my frozen fruit and spinach at Costco as they have the best prices I've found.
The Juice
There are lots of green smoothie purist that will turn their nose up at adding juice to their smoothies, but I feel like it's what actually makes them enjoyable. My favorite juice to use it grapefruit because it adds a big punch of flavor and wakes me up in the mornings but i know grapefruit isn't for everyone– just use what you like.  Sometimes I add some coconut milk to make it a bit creamy or do part juice/part water if I don't want something super sweet. Totally up to you.
The Prep
And now, here's the thing that will take your smoothie making to the next level…
Make individual smoothie packets! I like to pack a week's worth of smoothie ingredients into individual ziplock baggies so I can pull one out of the freezer add a little juice, coconut milk, or water and have a smoothie in 2 minutes flat.
Wait… fresh spinach in the freezer?!?
Yup! As long as it goes into the freezer fresh and doesn't get defrosted it will stay in tact and not get mushy like frozen greens get. Besides, you're going to blast it into smithereens once it goes into the blender anyway.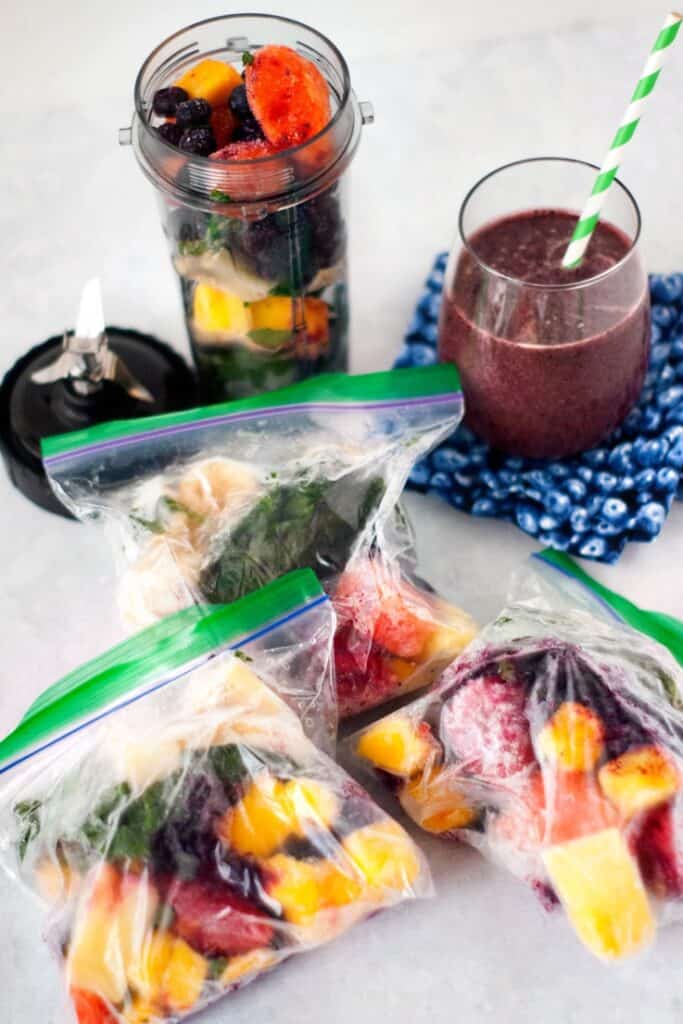 So that's my smoothie making process. I Hope you like it and helps get the wheels turning in your  head.  I'd love to hear how you make your favorite smoothie!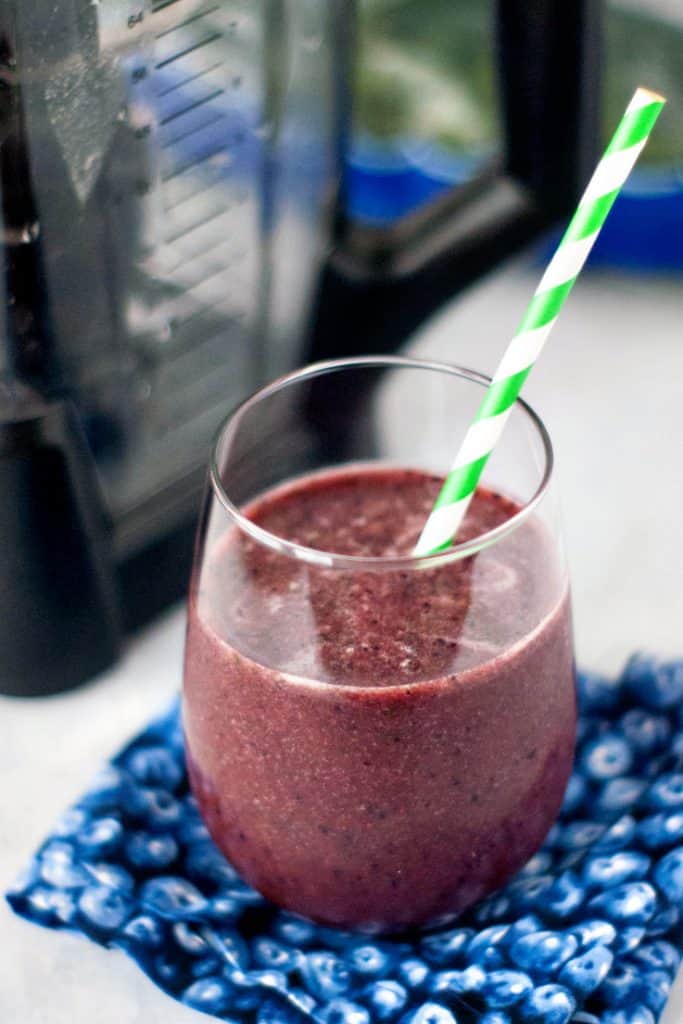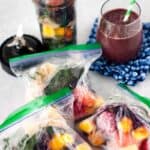 Basic Green Smoothie
Green smoothies can be delicious and easy to make every morning. Follow these steps to streamline the process and make your best smoothie yet!
Ingredients
2

cup

spinach or other preferred green

1/2

cup

tropical frozen fruit blend

1/3

cup

frozen blueberries

1/2

whole

banana

1- 1 1/2

cup

fruit juice

coconut milk, water or other liquid.
Instructions
Combine all ingredients in a blender and blend until smooth, adding more or less liquid as needed to reach desired consistency.
Nutrition Facts
Basic Green Smoothie
Amount Per Serving (1 smoothie)
Calories 377
Calories from Fat 9
% Daily Value*
Total Fat 1g 2%
Sodium 73mg 3%
Potassium 1137mg 32%
Total Carbohydrates 91g 30%
Protein 3g 6%
* Percent Daily Values are based on a 2000 calorie diet.