Corn, dill, mushrooms, and BACON come together in this loaded sweet corn pasta dish for one creamy, dreamy dinner that won't dissapoint… unless you're my husband. Ha!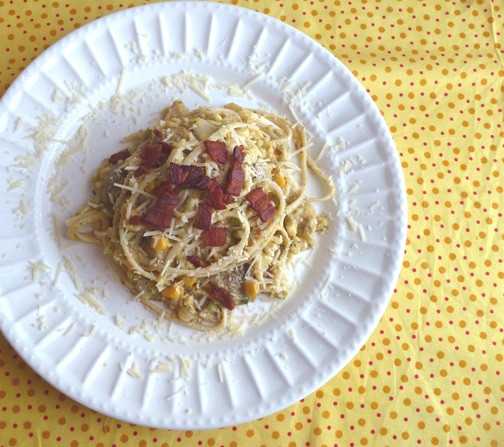 "What was that doctor? Did you say colon cancer?"
MY LATEST VIDEOS
" No, Lactose Intolerant."
" Nah, you meant to say colon cancer, right?"
"Nope, sorry. Just lay off the dairy, and you'll be alright."
"NOOOOOOOOOO!"
My hubby went to the Dr. last week and I'm pretty sure his convo was something like the one above. Living in our house and being unable to digest dairy just doesn't mix. There is far too much cheese and ice cream in our fridge to even make this possible. BUT, it's been over a week now that he's been off it, and I don't think it's been as hard as he thought it would be.--easy for me to say right?? I enjoy my bowl of ice cream while he slurps down Tofutti. Sorry babe!
Anywho, I've been doing my darndest to be the good wife who doesn't make chicken alfredo for herself  and leaves her husband with dry toast. I was craving something pasta-y and creamy and this meal seemed to fit the bill. Turns out the hubby isn't too fond of the corn and pasta combo, but oh well. He graciously ate it (as all good husbands do) while I on the other hand, loved it!  So suit yourself, I'm posting the recipe regardless. Try it, or not. I won't know the difference.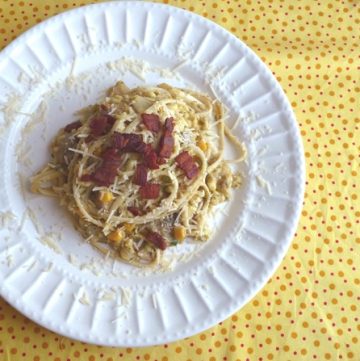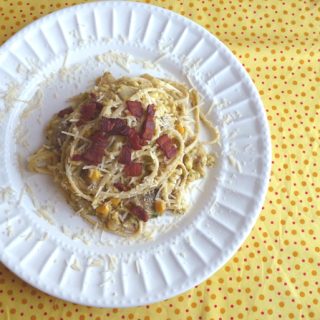 Ingredients
2

lbs

Whole Kernel Corn

I used 4 ears fresh corn, and 2, 14 oz cans. Basically, use what you have.

1 ½

cups

chicken stock

1

pound

linguine pasta

1

tbsp

olive oil

6

slices

bacon

chopped

8

oz

sliced button mushrooms

4

scallions

chopped

½

cup

red onion

diced

3

cloves

garlic

minced

¼

tsp

crushed red pepper flakes

1

tbsp

dried dill week

Juice of 1 lemon

½

cup

parmesan cheese

2

tbsp

butter

I unfortunately had to use a butter sub. for the hubby, but PLEASE use real butter if you can
Instructions
Puree half of the corn in a blender or food processor with the chicken stock. Bring a large pot of water to a boil for the pasta, salt the water, and cook until tender.

Meanwhile, heat the olive oil in a large skillet over medium heat. Add the bacon and cook until crispy. Drain and reserve the bacon, and pour off all but about 2 tbsp of the drippings. Return pan to heat and add mushrooms. Season with salt and pepper and cook until slightly carmelized, then add the corn. Cook until the corn starts to slightly brown around the edges, about 5-6 mins. Add in the onions, garlic, and red pepper and cook until onions are tender. Stir in puree and heat through. Finish sauce with dill, lemon juice, parmesan cheese, and butter. Add pasta to sauce and toss until all is combined. Season to taste with salt and pepper. Add in a little of the starchy pasta water if sauce is too thick. Serve with parmesan cheese and bacon on top.
Are We Friends On Pinterest?
Follow Me For More Great Recipes @hlikesfood