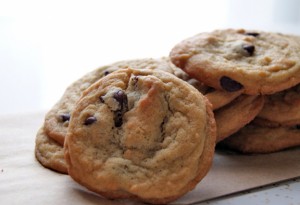 I'm not really sure what I like better- sleeping or eating these cookies. Both are equally glorious activities and even though the latter is sure to make me ridiculously fat,  I think I'll do both and get even fatter for sleeping on a tummy full of butter. Problem solved.
This is Ammon's recipe (read: I wrote the recipe for him, and told him how to do everything, he is the only person that has yet to make them, and I give him all the credit when we take them to people).
They are full of flavor, butter, peanut butter, and chocolate so I really don't know how you can go wrong. The one thing to check is the amount of flour you use. For some reason – I think it's the variance in moisture content in different peanut butters, yada, yada, yada…- some times they turn out beautifully and others times kind of flat. BUT, here's the good news. All you have to do is add a bit of flour if they are spreading to much- this BTW works for almost any cookie recipe that is spreading too much. This recipe calls for 3 cups and I've had to add up to an additional 3/4 of a cup in the past.  I usually will bake a "test" cookie before doing a whole sheet just to make sure everything looks and tastes divine.  The "test" cookie just might be my baked goods OCD speaking, but shoot me if it's soooo wrong to make food look udderly irresistible. I. THINK. NOT.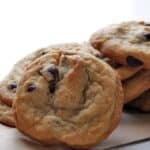 Peanut Butter Chocolate Chip Cookies
Ingredients
1 1/4

cup

softened butter

1

cup

creamy peanut butter

1

cup

sugar

1

cup

packed brown sugar

3

eggs

1

tsp

vanilla extract

3- 3 3/4

cups

all purpose flour

2

tsp

baking soda

1/4

tsp

salt

1/2-1

cup

milk chocolate chips
Instructions
In a large mixing bowl, cream the butter, peanut butter, and sugars. Add eggs, one at a time, beating well after each addition. Add vanilla. Combine the flour, baking soda and salt; add to creamed mixture and mix well. Add in chocolate chips.

Shape into balls (about 1 ½ tbsp worth) and place about 2 inches apart on ungreased baking sheets. Bake at 375 degrees for 7 minutes or until golden. Remove to wire racks to cool.