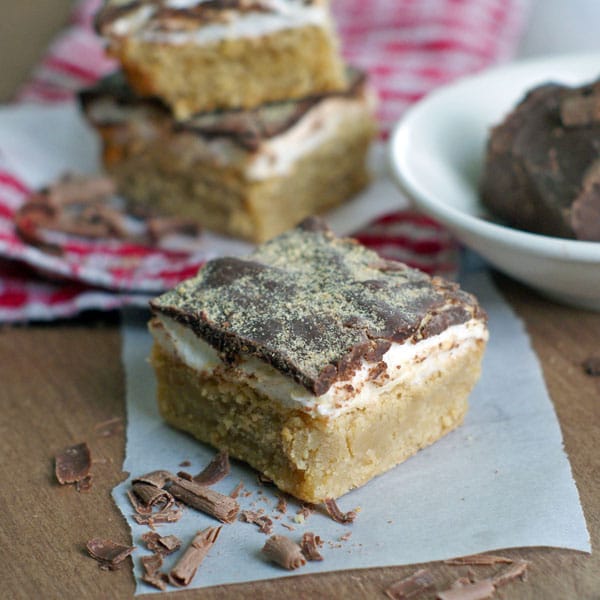 I love cookie bars. Don't get me wrong, I love myself a good ol' fashioned cookie, but when I don't have the time scoop individual cookie dough balls and bake batch after batch, cookie bars are where it's at! Especially when these bars: a chocolate chip cookie-like base topped with marshmallows and chocolate. It's pretty much love on top of love on top of love. Did you get that? 
This is one of those desserts that will "wow" whomever you're making them for with minimal effort on your part. In general I find that treats with marshmallows included in them invoke feelings of happiness and everyone loves a s'more, right? We have a fire pit in our backyard now and are having fun coming up with different concoctions. My favorite so far is made with Almond Joy bars instead of plain chocolate- do you have a favorite s'more recipe? Do share!
Oh! Before I forget, my story about Mario Batali's favorite restaurants is up on The Daily Meal… check it out here!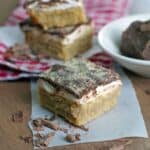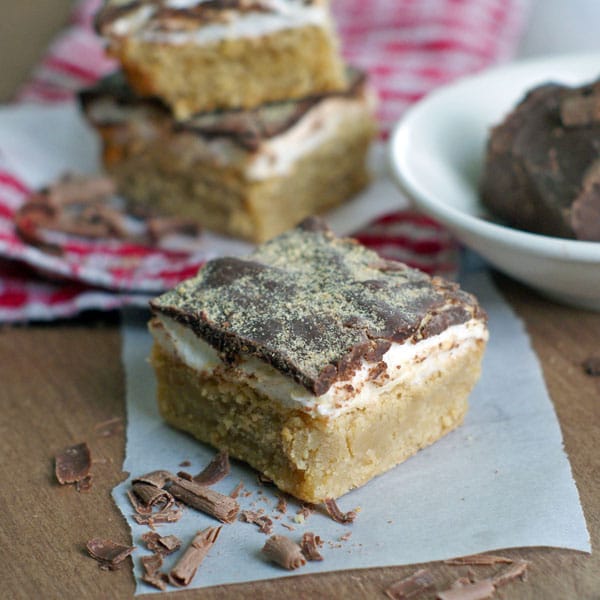 S'mores Cookie Bars
Ingredients
1

C

butter

2 sticks

1

C

sugar

1

C

brown sugar

1 1/2

tbsp

vanilla extract

2

eggs

3

C

all-purpose flour

1 1/2

tsp

baking powder

1/2

tsp

salt

32

large marshmallow

1 1/2

C

chocolate chips

1

tbsp

butter

1/4

C

milk

graham cracker crumbs for topping

optional
Instructions
Preheat oven to 350°

For The Cookie Base

Melt butter in a microwave safe bowl until liquefied. Using a sturdy spatula, stir in both sugars and vanilla extract. Add in eggs and stir until well combined.

In a separate bowl combine flour, baking powder, salt.

Stir flour mixture into wet ingredients and stir until no dry spots remain.

Spoon cookie dough into a greased 9×13? baking pan and spread into an even layer.

Bake for 20 minutes or until a toothpick inserted into the middle comes out with only a few moist crumbs.

Remove pan from oven and top with about 32 large marshmallow, or however many you can fit over the top.

Return cookie bars to the oven and bake for an additional 5 minutes or until the marshmallows are puffy and melted.

Let cookie bars cool completely.

For the Chocolate Topping

In a microwave safe bowl, combine chocolate chips and butter. Begin to melt in the microwave in 30 second intervals, stirring between each break. Continue until all the chocolate has melted, but watch carefully as the chocolate can burn.

Once the chocolate is melted, stir in the milk.

Spread chocolate mixture over the cooled cookie bars. Allow the chocolate to set before slicing into squares.