Sweet Chili Chicken Lo Mein – Ever feel like your brain is completely fried? That's me right now.  To demonstrate: I was trying to have a conversation with a friend after church the other day and I just could plain not get words to come out of my mouth. I knew exactly what I wanted to say but it wasn't happening so we went on our merry way and I sent her an email when I got my act together. #pregobraintothemax
So, in light of my inability to communicate well and lack of creativity at the moment,  for today's recipe I pulled one out of the deep dark archives and switched it up a bit. You guys can thank me later because this rendition of sweet chicken lo-mein is actually easier since I'm using a bag of frozen veggies instead of fresh ones that you have to chop. But it does have a different flavor profile so really you'll still want to make both. Or not. I'm not going to tell you how to live your life.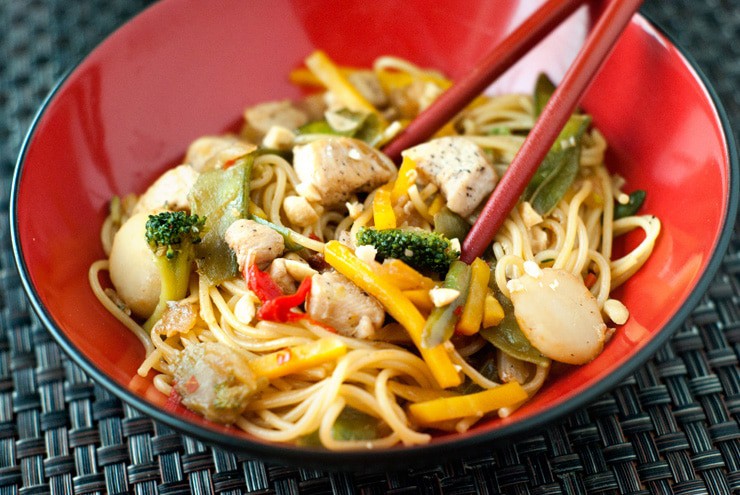 We'll start with some boneless, skinless chicken breasts and stir fry them in a little bit of oil with salt and pepper. Once it's cooked you can pour a little soy sauce over it and put the pieces in a separate bowl so we can keep using the skillet or wok to cook the veggies.

Thin Spaghetti Is Perfect For Sweet Chili Chicken Lo Mein
Thin spaghetti- that's what I'm using here. Really you can use whatever kind of long pasta you'd like but I like the girth that the thin variety gives– not to thin, but still thin enough to let the flavors shine through. You'll cook up 8 oz of this until just tender all the way through.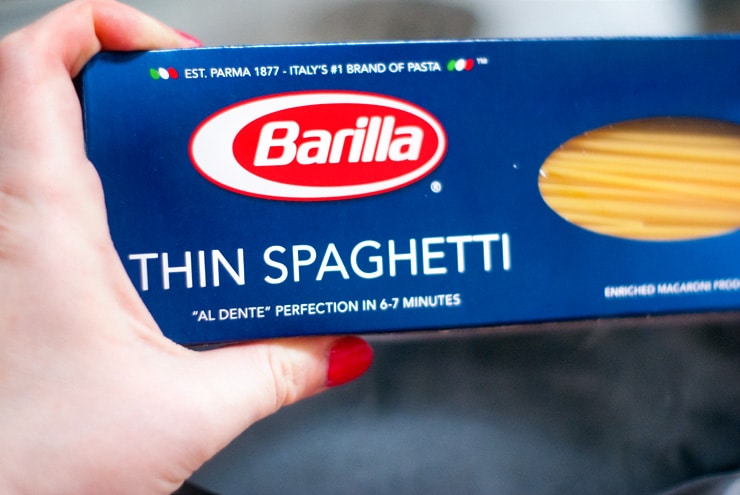 I've talked about sweet chili sauce before and it's still one of my favorite condiments/cooking sauces. You can find it in the Asian food section of most grocery stores lately. It's sweet and just slightly spicy, but not so spicy that kiddos can't enjoy it too. We love it.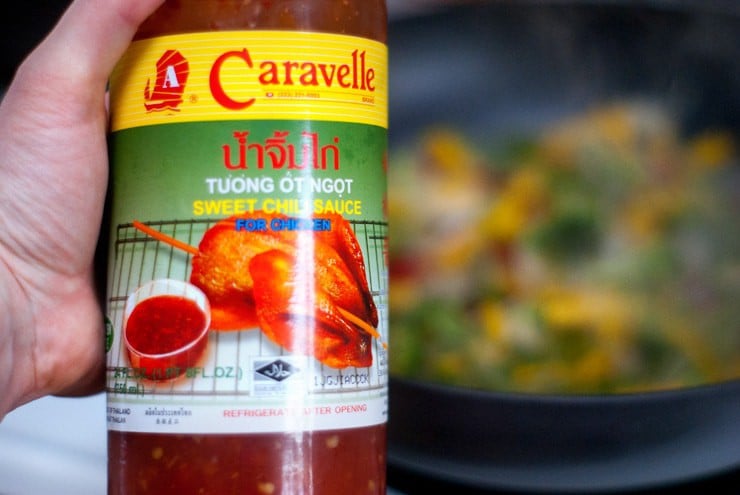 Once the chicken is out of the pan, a bag of frozen stir fry veggies gets tossed and stirred and cooked until tender.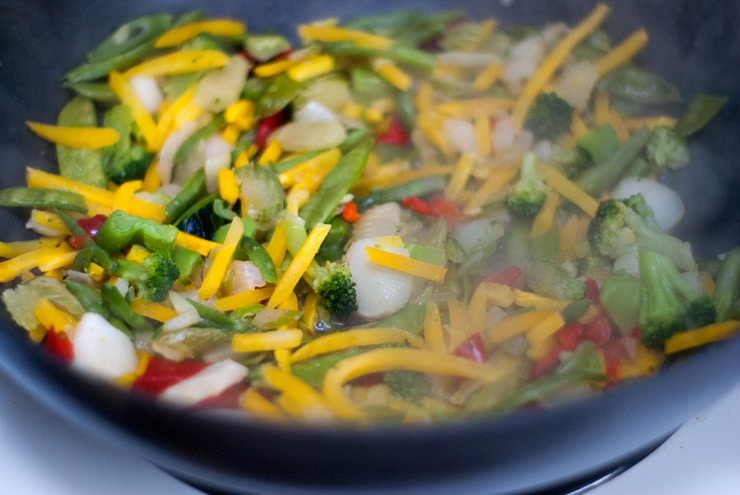 From here, it's pretty smooth sailing. Add back in the chicken, stir in the cooked pasta, and combine with the sweet chili sauce a little bit more soy sauce.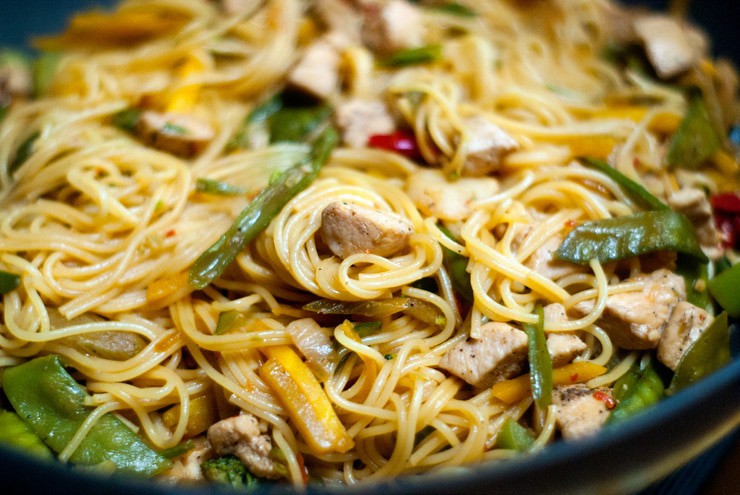 Dish it up, sprinkle with some sesame seeds, chopped peanuts or cashews to serve and it's a quick, flavorful meal!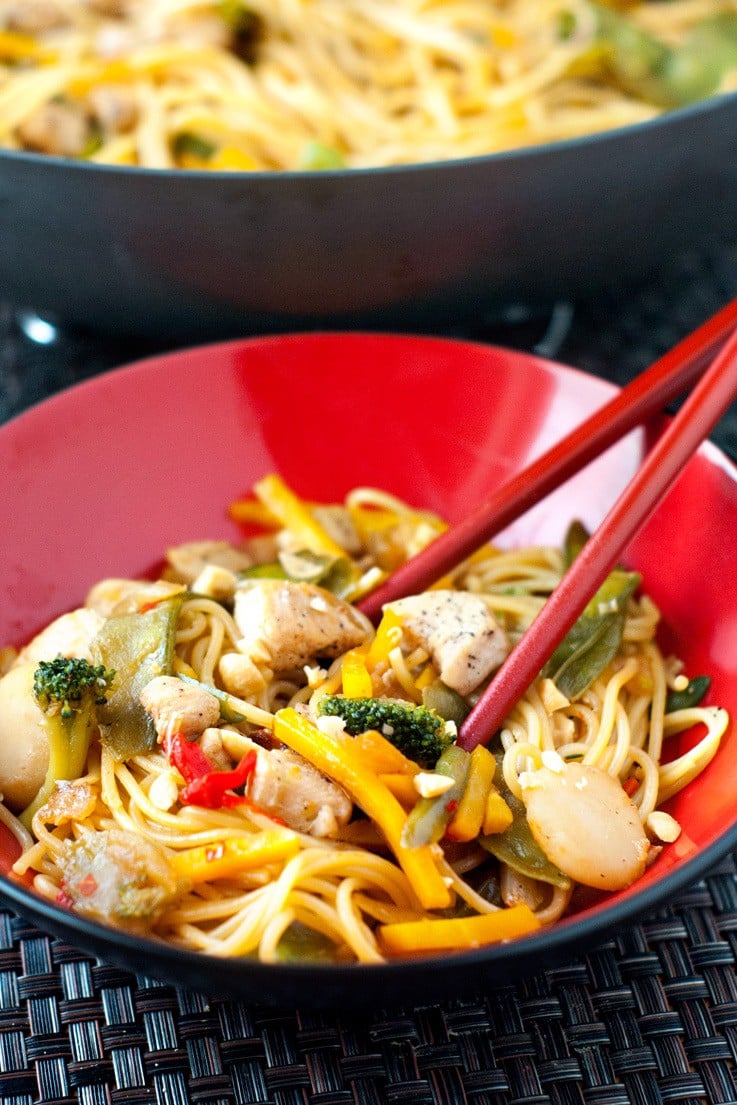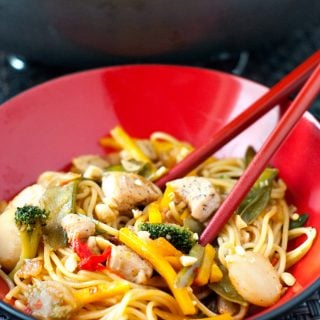 Ingredients
1-2

Boneless skinless chicken breasts

cut into 1/2 inch pieces

2

Tbsp

canola oi

2

cloves

garlic

minced

1/4

tsp

kosher salt

1/8

tsp

ground black pepper

1

Tbsp

soy sauce

1

16 oz bag frozen stir-fry veggies

8

oz

thin spaghetti

cooked

1

tbsp

soy sauce

1/4

C

sweet chili sauce such as Mae Ploy

Chopped peanuts or cashews for serving
Instructions
Heat 1 tbsp oil in a large skillet over medium high and cook chicken 3-4 minutes or until opaque and cooked through. Season with salt, pepper, and 1 Tbsp soy sauce and remove from skillet. Set aside.

Heat remaining Tbsp of oil in same skillet and cook vegetables until crisp-tender, stirring often. Stir in cooked pasta, chicken, sweet chili sauce and 1 Tbsp of soy sauce, stirring constantly until well combined. Remove from heat and serve hot.